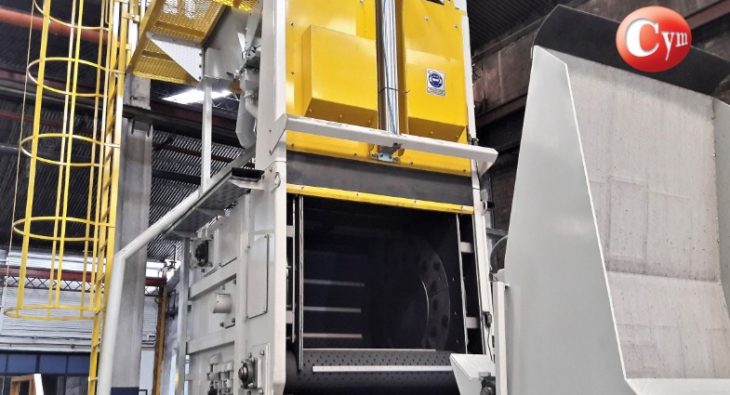 Tumble belt shot blasting machines are the most universal among all shotblasters as their design makes them suitable for processing parts of different sizes in bulk loads.
Cym Materiales SA manufactures two groups of tumble belt machines. The blasting units belonging to the first group are rather small with one turbine and a shot capacity range of 20 to 60 liters while the second group has two turbines and a shot capacity from 130 to 900 liters.
These types of tumble belt shot blasting machines are very easy to operate.
The process starts with the loading of the parts on the belt either manually or through an automatic loading system.
Once the door is closed the blasting cycle initiates. The wheels and the belt start spinning producing a continuous rotation of the parts thereby ensuring that all components are exposed to the shot blasting stream for consistent cleaning.
When the blasting process finishes, the machine stops automatically allowing the unloading of the parts to take place. Then, the operator moves the belt in the reverse direction to prepare the machine for a new load.
Blast cabinet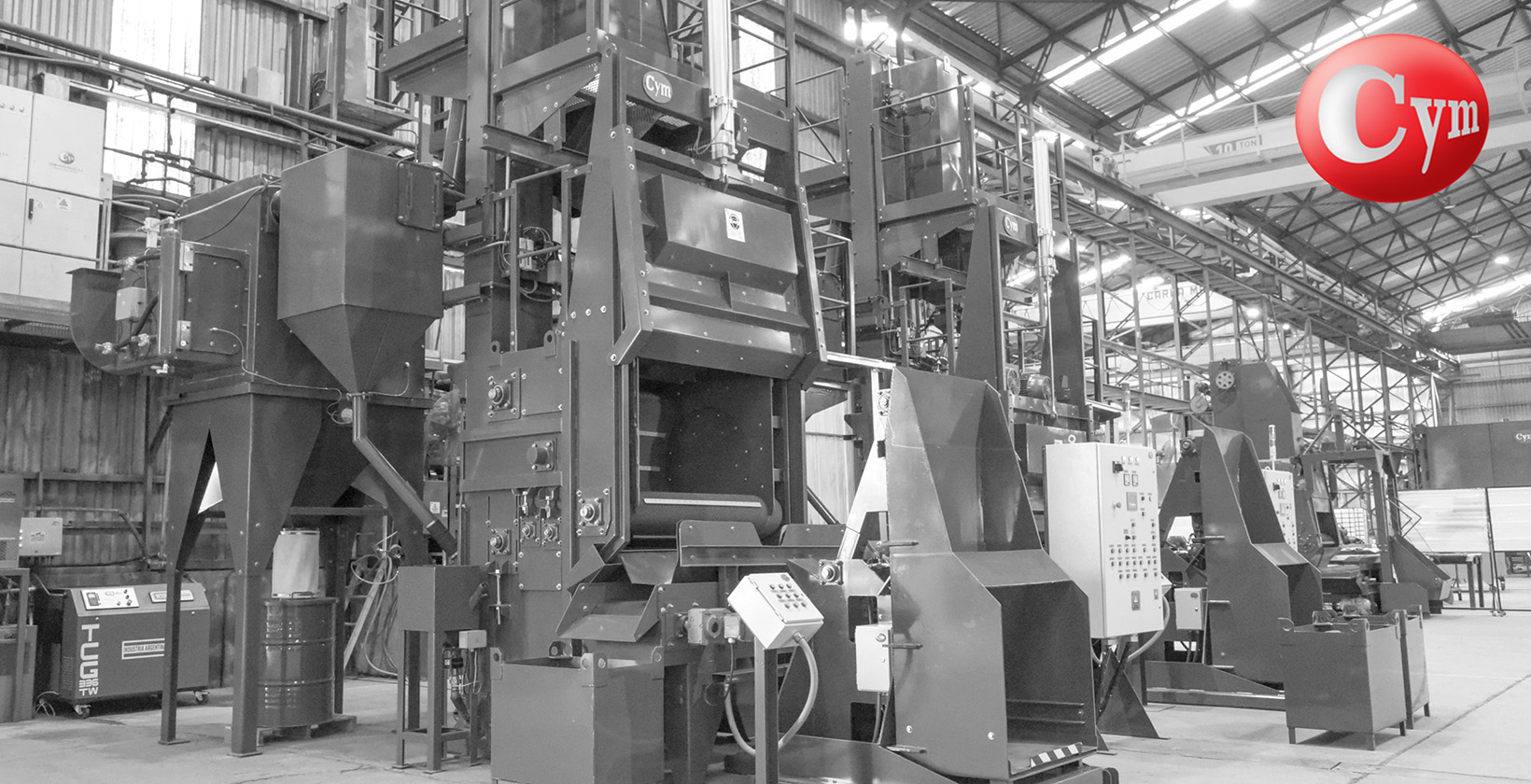 External structure with robust and compact design made of SAE1010 steel
Cast steel Liner plates (16/18% Cr) and manganese steel plates to protect cabinet
Loading / unloading door for parts with manual or pneumatic opening according to model
Screw conveyor – Spiral 15b30 boron-steel
Wide easily accessible rear door for internal maintenance of the cabinet and bottom of the bucket elevator
Belt conveyor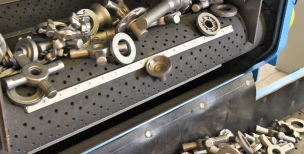 Two options of high resistance to wear belt
G Model: Rubber
T Model Steel
Loading & Unloading
Hydraulic parts loader
Vibratory or belt conveyor for parts unloading
Bi-directional Blast Wheel
Equipped with one or two blasting turbines according to the model of the machine-
Located strategically with a correct distribution of the shot on the parts to be treated resulting in a better coverage and better performance of the machine
Drive from 10 HP up to 60 HP
Direct drive
Housing manufacture in MN (11-14%) steel Forming together with the internal liners and double resistant wear wall
High chrome steel Internal liners – > 62Rc. Liners attached by screw with hardened cast steel head cover for abrasion protection
Positioning and fixing system for control cage, eliminates the risk of incorrect adjustment of the hot spot.
Labyrinth seal of abrasive between engine coupling and housing with possibility to mount the turbines in any position
Abrasive recirculation system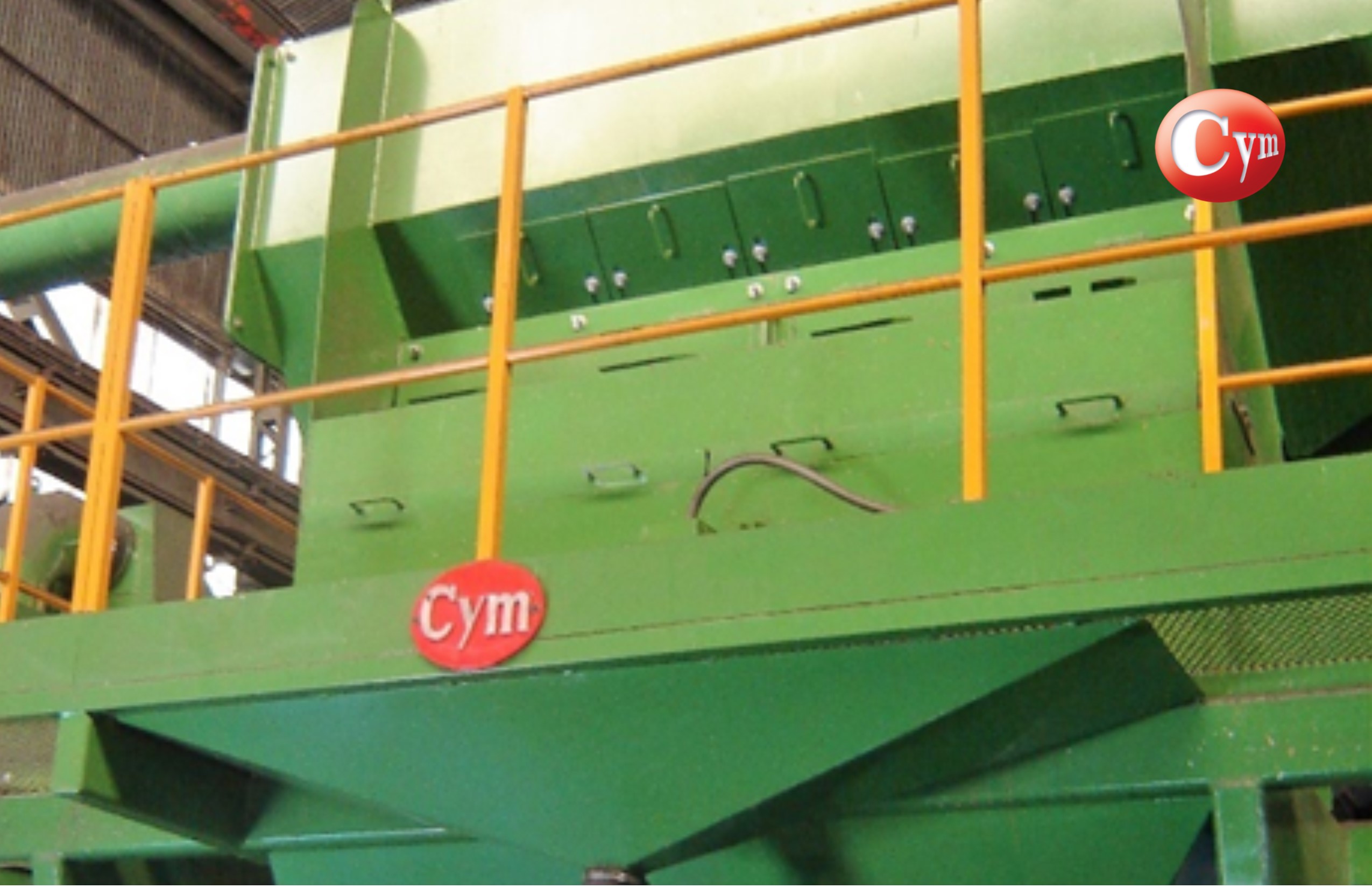 Bucket elevator

Cast bucket – SAE 1035 steel

High efficiency Air flow abrasive cleaning
Storage hopper for good abrasive
Pneumatic Valves flow
Upper Screw – Spiral 15b30 boron-steel
Optional
Magna Valve – Amperage Electronic Control
Automatic Abrasive Regeneration System
Maintenance platform
Dust collector
Steel construction: 2 mm thick
Cartridge media cleaning: reverse Pulse jet
Easy replacement of cartridges
Efficiency ≥ 0.5 micron / 99.9%
Emission <1 mg/m3
200L dust accumulation drum with lid transition to drum with sleeve filter
Intermediate gravitational separator located between blast cabinet and dust collector allows for increasing the air flow inside the cabinet without risk of carrying good abrasive to the dust collector drum
Optional
Silencer and Mineral wool cover kit to reduce noise ≤ 85dBA a 1.52m
Maintenance platform
Electric component
Control panel for operation control
Components and motors: according to customer requirement IEC, Nema, UE, etc.
PLC control: Siemens
Emergency stop button: included
Wire cables to connect control panel and motors
Optional
Movement sensor motors
Cooling system Rittal (for maximal temperature: + 45 °c)
Soft Start motors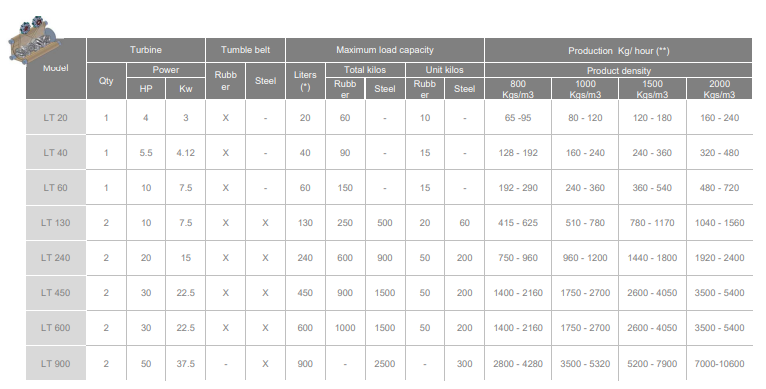 Advantages of the use of 2-turbine tumble belt machines

Blasting time reduced between 40% and 50% with similar installed power.
Maintenance costs reduced by better exploitation of the equipment.
Amount of blast consumption reduced by finished part.
Electric consumption reduced by blasted part.
Working costs reduced.
More consistent quality of the parts.