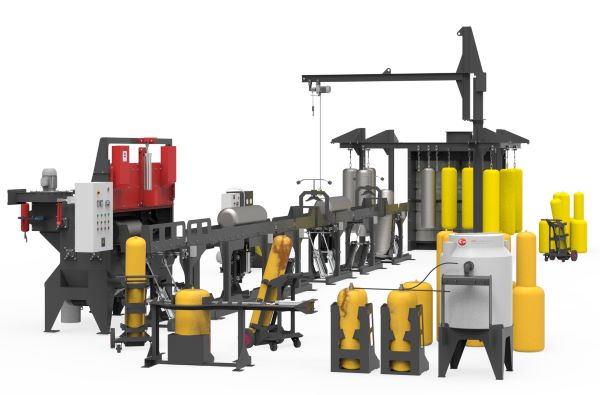 Cym Materiales SA manufactures a full line of equipment for "Periodical Cylinder Revision Centers" to inspect GNC (Gas Natural Comprimido) CNG (Compressed Natural Gas), GNV (Gas Natural Vehicular) or NGV (Natural Gas Vehicules) cylinders.
Systems are available for handling small or large production volumes.
Technical advice as well as turn key plants are also available from Cym Materiales.
Tilting table - 90°, 130° and 180°
Cylinder press for valve removal
Conveyor system for cylinder loading/unloading.
Ventilation Gas Chamber
Hydraulic Pressure Testing Machine
Electronic Weighing machine
Internal drying system
Shot Blast machine
Paint booth Cym equipment is designed for use in the most demanding applications.
Cym systems are durable, easy to use and compact in design.
---
Automatic
Electronic scale for CNG cylinder weighing with soft loading system on scale.
Hydraulic pump driven by 3HP motor - Maximum working pressure 350 kg/cm2 - Electronic manometer and mechanical manometer for pressure measurement.
Electronic manometer and mechanical manometer for pressure measurement.
Temperature sensors for data acquisition to PC.
PLC for process control. The PLC stores up to a maximum of data corresponding to 1000 tests.
Software for test recording, archiving, calculation and direct data measurement.


Manual
Hydraulic pump driven by 3HP motor Maximum working pressure 350 kg/cm2.
Zelio PLC for purge control and programmed pressure cut-off.
Pressure switch and mechanical manometer
Temperature sensor for manual data acquisition to PC. Range 0°to 100°

---
Automatic ECO CNG equipment
Automatic shot blasting equipment ECOGNC - with guillotine door and two 10 HP turbines. The cylinders are deposited horizontally on the MB-90° 1P - MG tilting table located outside the equipment. The operator manually rolls the rollers and deposits them on a pair of rollers located in the shot blasting area. These rollers have their own rotation so that they rotate on their own axis.
Once the cylinder is placed in the equipment, the loading door closes and blasting begins. At the end of the blasting process, the loading door is opened and with a kicker system the shot blast cylinder is removed from the inside of the cabinet, leaving it again on the MB-90°1P MG tilting table.
---
CY1210P CNG Manual Shot Blast Equipment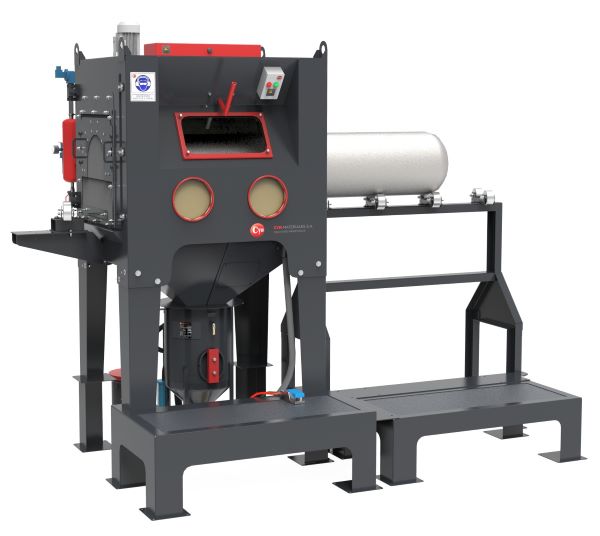 It allows manual shot blasting of CNG cylinders, placed on a roller conveyor with rotating and advancing movement.
The cylinders are loaded manually on the rollers, which make them rotate on their axis and advance simultaneously when the operator presses the geared motor drive. The shot blasting work is carried out with the static cylinder and the advance of the cylinders is activated as required. Once the cylinder has been blasted, it exits at the opposite end to be manually unloaded by the operator.
---
Videos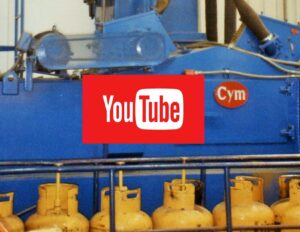 Special Projects: In case the equipment you need is not found on these pages, please contact our Engineering and Sales department, so that they can help them develop the best equipment that meets your needs, seeking to reduce your costs. of operation and increase the profitability of your production systems.
---
Photo Galery