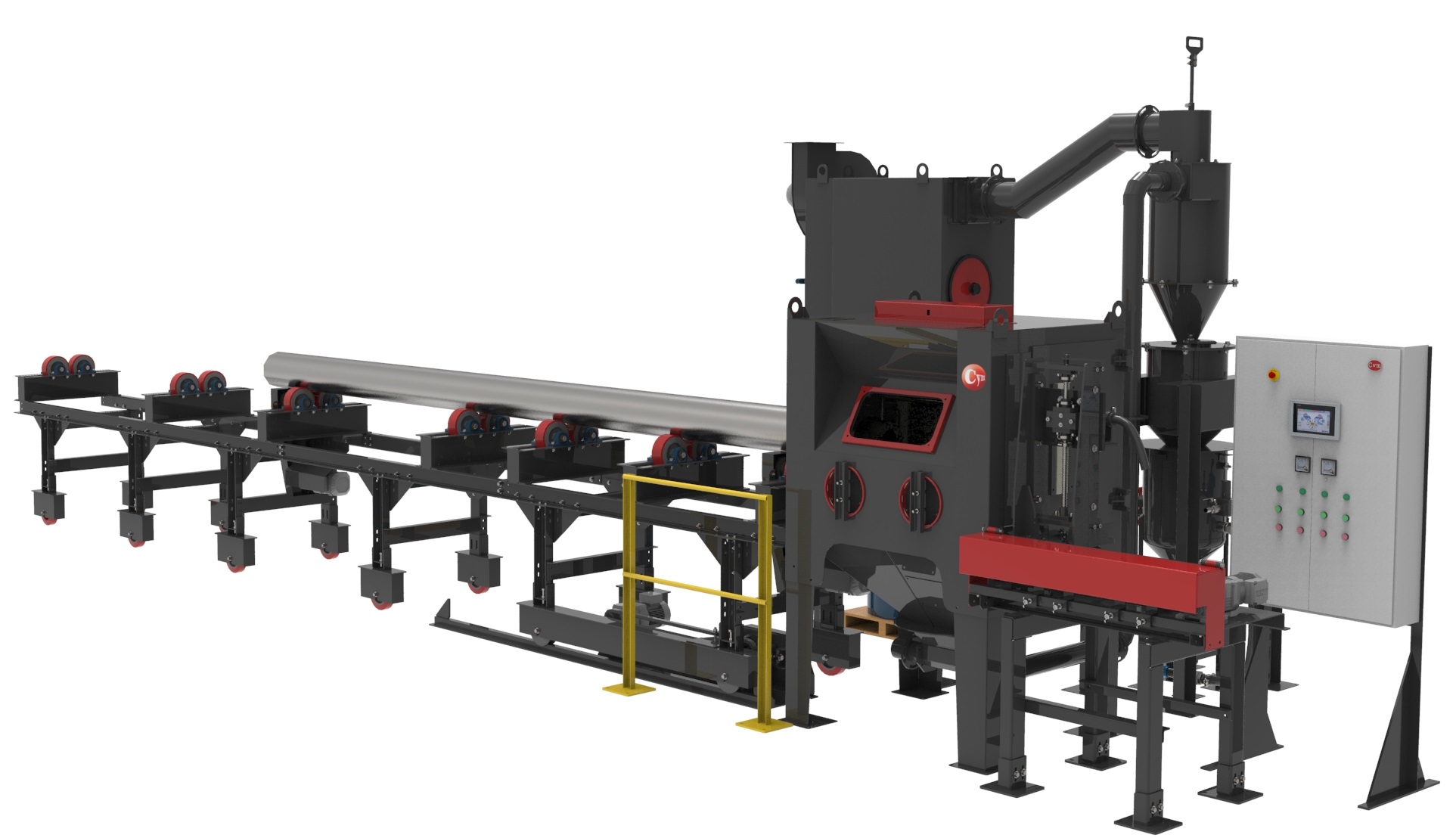 CYM Materiales SA manufactures equipment for the treatment of shot peening or cleaning and decontamination processes of internal and external pipe threads with abrasive impulsion by pressure or suction nozzles according to the requirements of the parts to be processed.
CONSTRUCTION FEATURES
CABINET
Constructed in 3.2 mm thick folded and welded sheet metal and loading doors of 6 mm thick sheet metal parts.
Interior lining of the main cabinet in high abrasion resistant rubber.
Interior lighting in the ceiling of the cabinet with double LED tube of low consumption and laminated protection glass.
Air stream abrasive cleaning system that leaves clean abrasive ready for reuse deposited in the cabinet hopper.
Easy-to-replace laminated glass visor with large dimensions, providing excellent visibility to the operator.Construido en chapa plegada y soldada de 3.2 mm de espesor y puertas de carga de piezas en chapa de 6 mm de espesor.
ABRASIVE SPRAYING SYSTEM
By pressure or suction as required
Magna-Valve flow and working pressure control from HMI to maintain stable set process parameters.
Automatic horizontal nozzle movement systems. Working in two positions, one for internal blasting and one for external blasting.
Kit for manual shot blasting process including glove box and foot pedalPor presión o succión conforme requerimiento
ABRASIVE RECIRCULATION AND CLEANING SYSTEM
Two options
By suction with cyclone separator for fine particles.
Mechanical with bucket elevator and abrasive purifier system by air blast curtain.
DUST CLEANER
Cartridge type with automatic pulse jet cleaning system.
Keeps the cabinet ventilated and free of dust in suspension for the correct visibility of the operator.
Filtration efficiency ≥ 0.5 microns at 99.9%.
Particulate emission less than ø 10 µmDe cartuchos con sistema de limpieza automatico pulse jet
SYSTEM OF MOVEMENT AND ROTATION OF TUBES
Pipe rotation system with pairs of driving wheels and without command
Double structure with driving wheels for displacement on tracks connected by a bar for coordinated movement.
CENTRALIZED CONTROL PANEL
PLC for automatic process control
Manufactured according to IEC, Nema, EU standards as required.
Set of motion sensor components

BRIEF DESCRIPTION OF SHOT PEENING PROCESS
The shot-peening process is a particular case within the range of shot peening processes, whereby compressive stresses are induced in a metallic surface by exposing it to a jet of spherical particles (shot) at high speed and keeping the parameters of the operation under control.
During the shot-peening process, in addition to producing the aforementioned effect, the surface is cleaned as in a normal shot peening task, but this is only a secondary effect of the process, the basic purpose being to increase the fatigue resistance of the material.
When the shot is propelled in a high velocity flow, it impacts on a metallic surface, forming a surface profile consisting of rounded valleys and ridges produced by the plastic deformation of the metal during the impact. This deformation extends between 50 and 250 microns deep.
The effect obtained after shot blasting is the crushing of the metal surface metallographic grains. This has two effects:
The grains widen, compressing each other and causing the appearance of compressive stresses parallel to the surface. These compressive stresses cancel out residual stresses induced in previous processes such as machining, heat treatment, plastic forming, etc. They also oppose any tensile stresses to which it may be subjected in subsequent use.
As a secondary effect, as the grains widen, they cover the inter-granular spaces, considerably reducing them and thus the rate of galvanic corrosion.
In summary, the shot peening process increases the fatigue resistance particularly of coil and flat springs, strips, car stabilizer bars, gearbox gears, transmission crowns and pinions, aircraft parts and pieces, oil and mining drill bits and rods, etc. and as a secondary effect it produces an increase in corrosion resistance, the elimination of residual stresses inducing a uniform compressive stress on the entire surface as well as cleaning it by shot peening.
Special Projects: In case the equipment you need is not listed in these pages, please contact our Engineering and Sales department, so they can help you to develop the best equipment that meets your needs, seeking to reduce your operating costs and increase the profitability of your production systems.