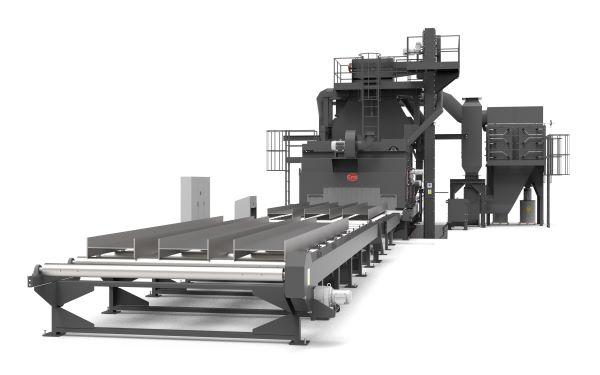 Cym Materiales SA manufactures complete shot blasting and painting lines for steel plates, profiles and strips with continuous passage both horizontally and vertically allowing to select the right equipment for each application ensuring high productivity with low operating cost and environmentally friendly.
Recommended when there is a long manufacturing or storage time of raw material, the shot blasting equipment is complemented with painting booths and in-line drying ovens for shop first applications in a 100% automatic process, avoiding unnecessary handling and optimizing production time and costs.
---
Shot Blasting and Painting Line for Plates and Profiles - CH-H
They allow to process plates and different types of profiles (angle, L, H, etc.) with a maximum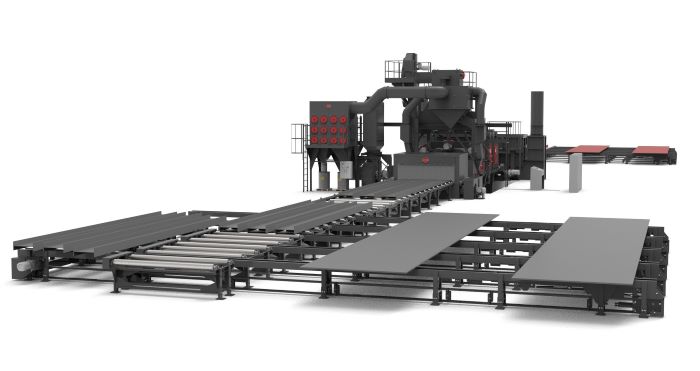 flange height of 150 mm (300 mm total).
Preferably work with spherical shot to facilitate the removal of shot on the upper part of the pieces.
Requires a system to sweep the shot that is deposited on the upper part of the plate (brushes, blowers, etc.).
Higher investment costs, civil works and operating costs compared to vertical passage equipment.
---
Shot Blasting and Plate Painting Line – CH-V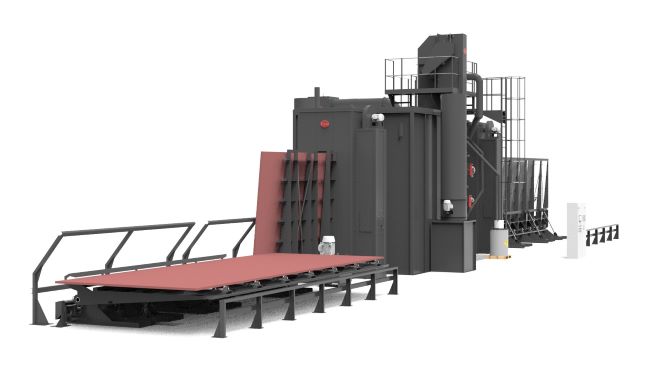 Process plates in vertical position with spherical or angular steel shot generating high roughness with good anchor profile.
Plate loading can be done in vertical or horizontal position.
Lower investment and operating cost than horizontal CH-H equipment.
No possibility of abrasive build-up on the sheets, the shot blasting equipment does not require the use of rotating brushes and abrasive blowers.
Limited equipment for processing profiles
---
Comparative Advantages and Disadvantages between CH-H Equipment and CH-V Equipment
High production volume with minimum operating cost.
Greater homogeneity in the finishing of the processed parts.
Automatic shot blasting process, does not require specialized labor.
With a correct operation of the equipment, there are no health problems in personnel or damage to the facilities, not polluting the environment.
---
Other Equipment Used in the Steel Industry
PER and EST Shot Blasting Lines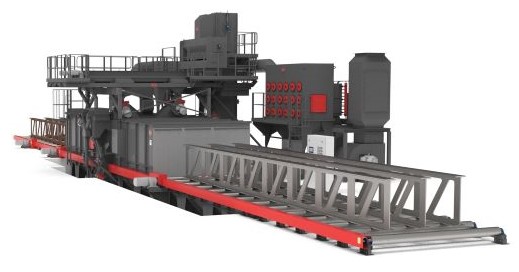 Process all types of raw materials and welded structures including tubes, spools, plates, angle sections, I, H, welded structures and accessories.
Recommended for processes that require flexibility of work, they allow a quick set-up to process different sizes and types of parts.
Depending on the model, the equipment is equipped with four to sixteen shot blast turbines.
Parts can be moved with parallel roller bed or overhead conveyors.
Blastrooms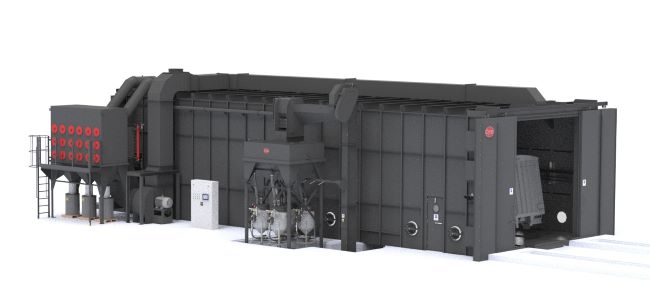 Flexible shot blasting process allows blasting of all types of parts which, due to their size or complexity, cannot be processed in automatic shot blast machines.
One or more operators working inside the blast room using personal protective equipment
Pressure system with remote dead man control for blasting abrasive spraying
The rooms can be automated by adding robots or nozzle manipulators, eliminating manual labor.
Portable Blasting machines
Portable closed circuit equipment for shot blasting steel plates, ship hull floors, floors and ceilings of oil storage tanks, etc.
Productions between 20 m2 and 60 m2/hour.
3D Shot Blasting and Painting Line for Welded Structures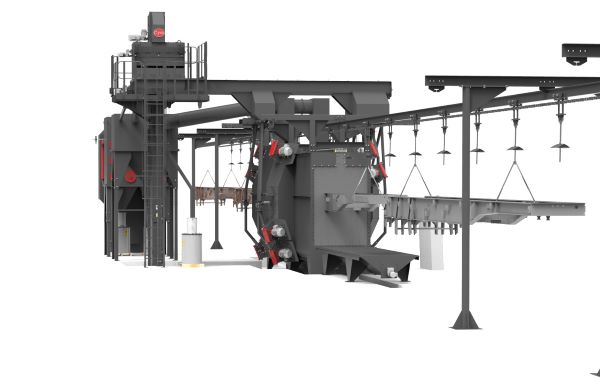 3D continuous flow shot blasting, painting and drying systems developed to process all types of welded structures, profiles, plates, satisfying the demands of all types of metal-mechanical industries.
Used in process lines that require high production, process flexibility and large variety of parts, they allow the application of coatings on elements of different shapes, weights and sizes.
Its 3D concept reduces the area occupied in the plant, averaging a space of 15m x 30m for a typical installation of two painting booths with their respective curing ovens, processing 45 tons of steel per work shift, minimizing downtime and damage to the parts due to handling with a minimum operating cost.
---
Videos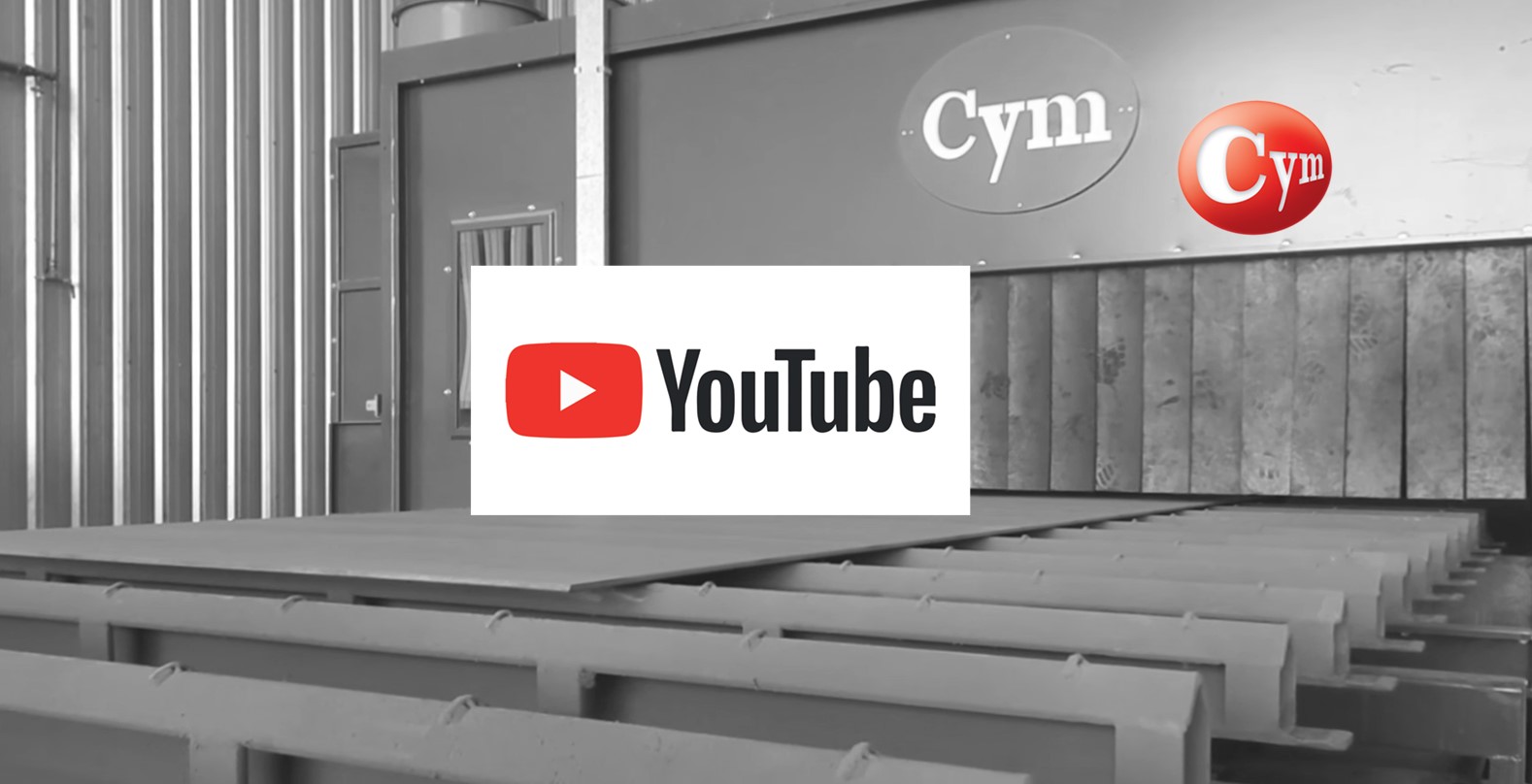 Special Projects: In case the equipment you need is not listed in these pages, please contact our Engineering and Sales department, so they can help you develop the best equipment that meets your needs, seeking to reduce your operating costs and increase the profitability of your production systems.
---
Photo Galery