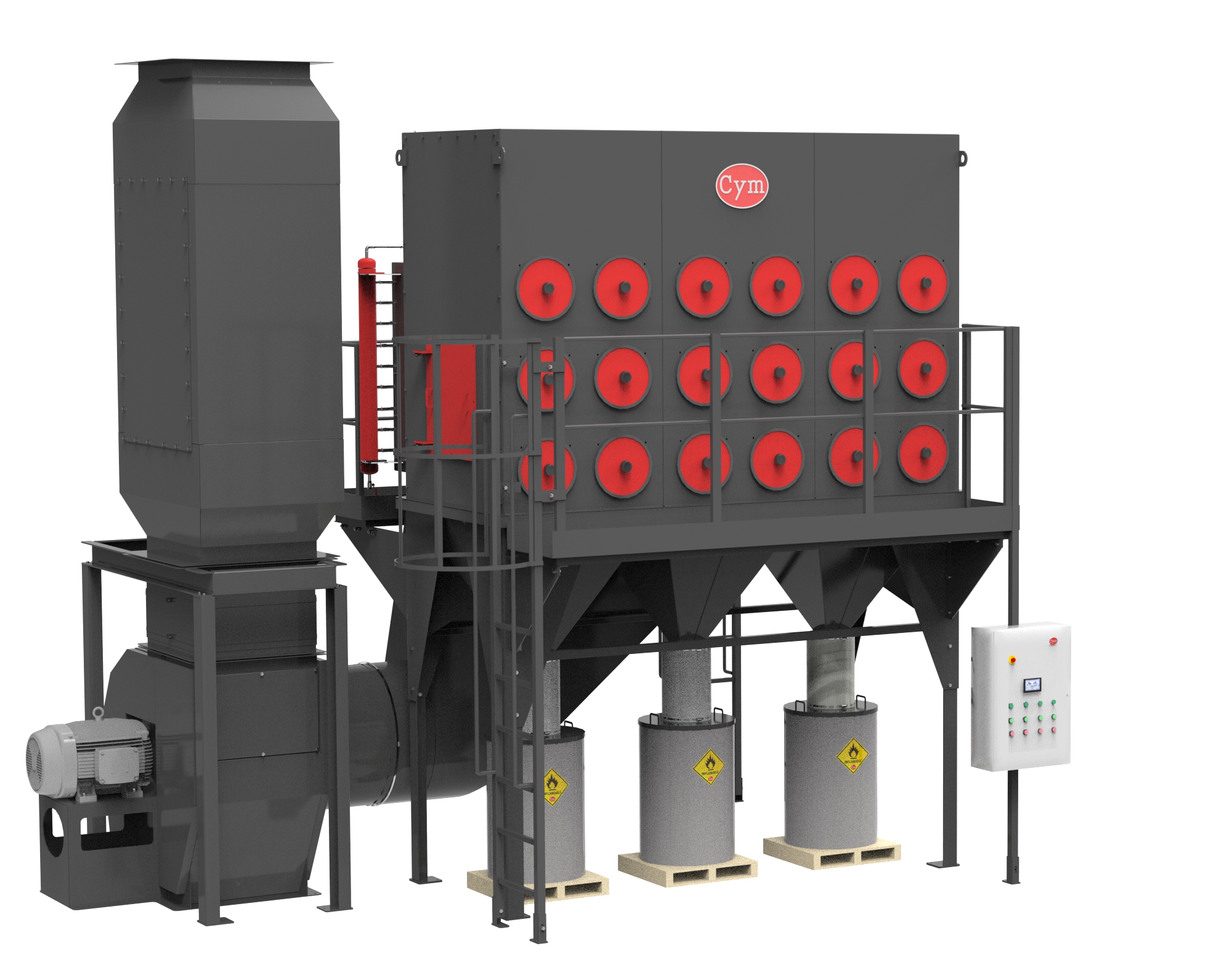 The generation of dust, fumes and gases is an inevitable part of most industrial processes. The consequences of these particles in suspension can be extremely dangerous for human health, in addition to generating a dirty work environment and polluting the environment. To avoid these risks it is essential to extract and confine the dust in suspension before they reach the breathing zone of the personnel and which negatively impact the environment.
Some typical sources of contamination are the processes of cutting, grinding, blasting, as well as the handling of different types of dust in the food, mining and pharmaceutical industries. Textile, wood and compounding processes can also release dust and harmful fibers that can affect the respiratory tract and cause allergic reactions by penetrating the skin.
In CYM Materiales SA we offer integral solutions in aspiration for the most diverse industrial processes that generate dust such as welding fumes, plasma cutting and fumes in general; cutting powder, grinding, sanding and powders in general; gases, oil mists and tin welding fumes, among many others.
Our suction systems are adjusted to each need, and thanks to an exclusive design and applied know-how, they ensure an excellent level of particle retention with a low operating and investment cost, generating a clean and safe work environment.
Dust colector are used to control environmental contamination and / or to recover industrial products applied to the most diverse industries.
Agricultural Processes

Corn shellers
Seed cleaning
Seed separators and stoners
Seed preparation
Seed coating
Seed hybrid development
General facility ventilation

Blasting

Wheel blasters
Air blasters
Cabinet blasters
Blasting rooms
Sandblasting
Plastic media blasting
Abrasive blasting
Peening
Special considerations for:

Aluminum blasting
Blasting with silica sand

Chemical Processing Applications

Paint pigments
Agricultural dry chemicals
Pesticides
Insecticides

Dust and Fume Generating Processes

Laser cutting for wafer sizing
Plasma cutters (plasma tables)
Regrind/recycling of bad wafers
Cadmium glass scoring and trimming
Cadmium glass coating
Waste recycling
Solar Panel Fabrication Applications

Fiberglass Applications

Fiberglass manufacturing
Fiberglass reinforced plastic manufacturing

Food Dust Collection Challenges

Cereal ingredients
Spices
Feed and raw grain agricultural products
Egg shell and dust
Special considerations:

Allergens
Flours
Corn starches

Industrial Welding Fume

Fume extraction for central welding systems
Worker safety stressed in industrial welding applications

Industrial Woodworking

Lumber mills
Cabinetry wood shops
School wood shops
Dust from industrial woodworking machinery:

Molders
Lathes
Planers
Belt Sanders
Chop Saws

Mining Applications

Excavation sites
Hammer mills
Rock crushing
Ball mills
Mill conveyor transfer points
Coal mining dust processing
Bin venting of quarry storage

Paper Scrap Applications

Industrial paper shredders
Corrugated box scraps
Printing facilities
Paper dust
Paper trim

Pharmaceutical

Tablet Presses
Tablet coating
Fluid bed drying
Spray drying
Blending
Granulation
General room ventilation

Rubber Dust Generating Processes

Tire manufacturing
Tire recycling
Tire retreading
Rubber manufacturing
Rubber recycling
Automotive parts production
Special considerations for rubber dust:

Thermal Sprays

Electric Arc Wire (EAW) Spraying
Flame Spray Powder or Wire
Electric Arc Spraying
HVOF & HVAF
Plasma Spraying
Cold Spray