Extensive tests have been carried out in order to evaluate the performance of different types of metal shot and mineral abrasives used in compressed air blasting equipment. The study was carried out by technical personnel with a lot of experience in industrial blasting applications, using strict parameters of coherence and objectivity in the applied procedures.
As a summary and for informational purposes, we describe below how the test was carried out.
During a period of 14 days, 45 different blasting tests were carried out using compressed air abrasive projection equipment, blasting 1m2 sheets. For all abrasives, 9.5mm and 12.7mm Venturi Largo blast nozzles were used, subjected to different air pressures.
A single qualified operator was the person who carried out the manual tests, until achieving a degree of cleanliness Sa2 ½ (Semi-White Metal) in all the tests.
Similar tests were repeated with automatic shot blasting equipment, thus ensuring that human interference did not impact the results. A blast nozzle was attached to a robot, fixing the steel plate on a rotary table. The degree of cleaning achieved with this equipment was grade Sa3 (White Metal).
The performance of the Angle Steel Shot was compared with non-metallic abrasives (aluminum oxide, slag and sand). To obtain a more realistic condition, working mixtures of angle shot and aluminum oxide from customers were used. These abrasives were cleaned through a conventional purifier, ensuring that the operating mix remains free of contaminating particles. The copper sand and slag samples were new, since both sand and slag are used in a single cycle.
During each test, the amount of abrasive used, the required cleaning time, the impact speed and the air flow were measured.
High caution was taken in everything related to caring for the environment, an essential issue to guarantee consistent and objective results.
Results

The result provided interesting data, considering the characteristics of metallic and non-metallic abrasives, in terms of cleaning efficiency.
SABLACIER angular steel shot, when used in a system equipped with abrasive recovery and purification, is the most economical option compared to other metallic and non-metallic abrasives. The initial cost of the steel shot is compensated due to its longer useful life, number of cycles and above all better productivity. (see box)

The steel shot process produces almost no dust compared to non-metallic abrasives, resulting in the following improvements:
Using steel shot the operator has better visibility working more efficiently and comfortably.
The volume of waste is lower, meaning a lower cost for its disposal.
For work in closed blast rooms, the level of investment in equipment is lower. When using steel shot, a dust collector is required on the order of 3 to 5 times smaller than if non-metallic abrasives were used.

Equipment wear (nozzles and parts subject to abrasion) is less when using steel shot.
Steel shot is the best abrasive to use in terms of environmental care and health of the operators involved in the process.
It has been found that blasting efficiency or speed is perhaps not the main technical argument in favor of steel shot. The tests determined that under special working conditions, some non-metallic abrasives have a cleaning rate similar to metallic abrasives.
Despite having carried out the tests with strict control parameters and using all the recommendations of the case, the following was observed:

Compressed air blasting proved to be an unstable and delicate process.
Small variations in the settings of the equipment considerably change the results obtained. Therefore, the technical support that users have from equipment manufacturers is very important.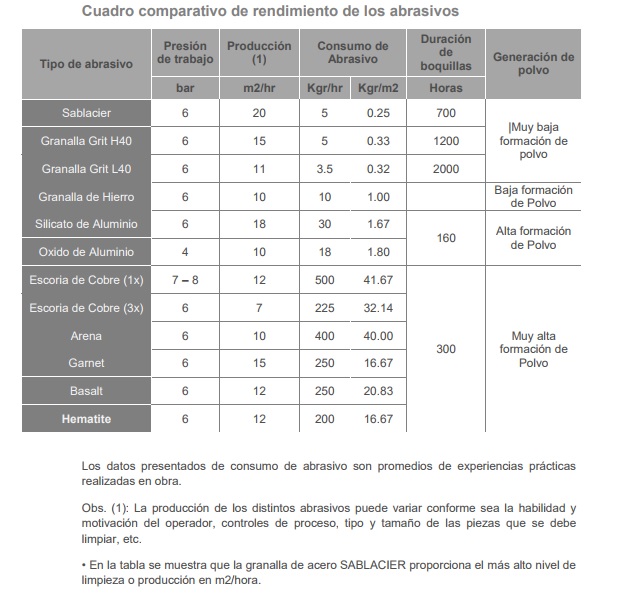 For more information please contact
info@cym.com.ar
or phone +54 341 4901100, and our engineering or sales departments will advise you on everything related to equipment, processes, finishes, production and automation of blasting equipment.
---