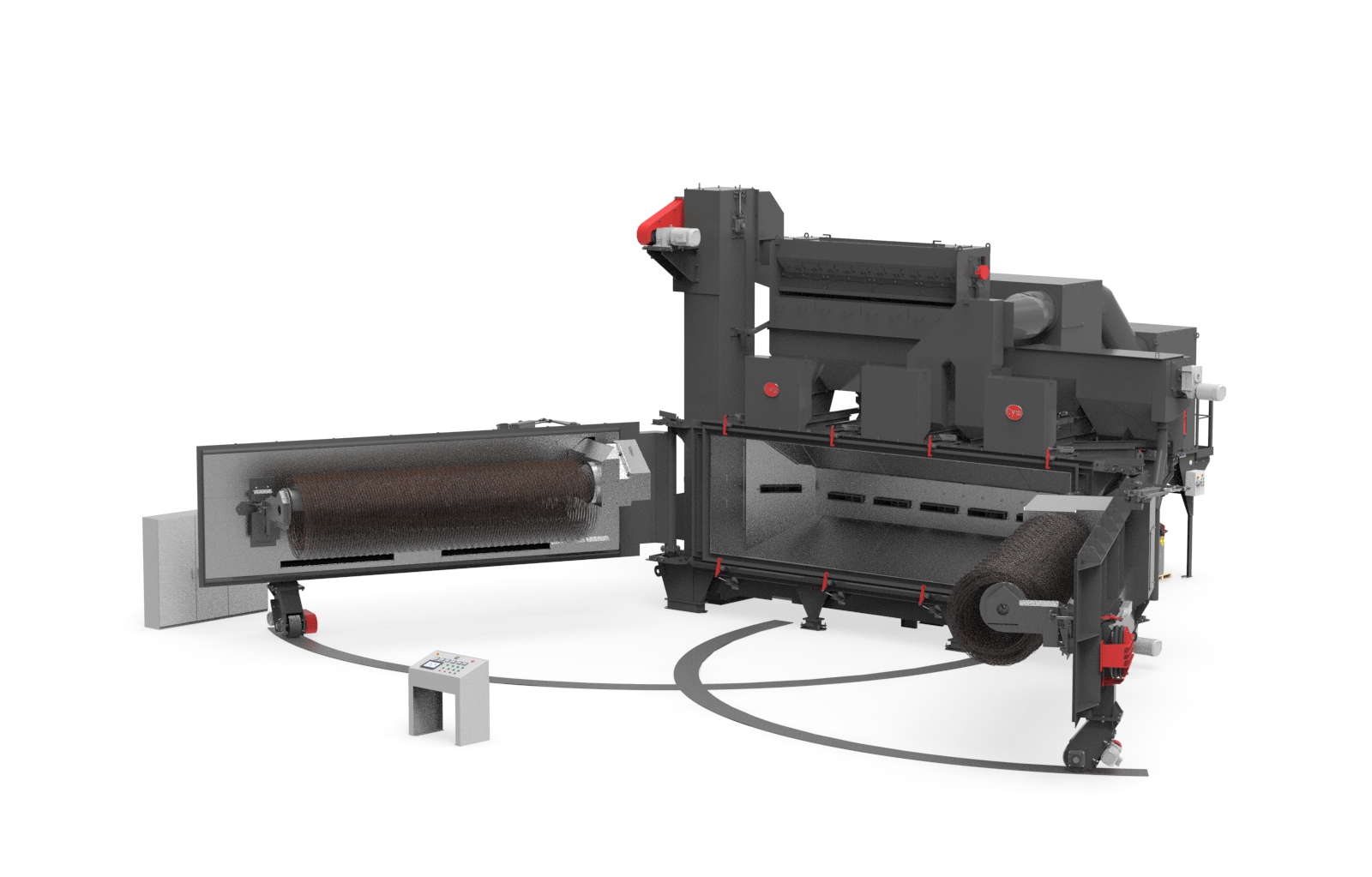 CYM Materiales SA manufactures blasting equipment for the mechanical descaling of wire rods by batch ensuring high productivity with a low operating cost and a process that does not pollute the environment.
The COIL blasting machine has been designed to process wire rods of up to 3000 kilos of weight at a time ranging from 7 to 20 minutes depending on the type of steel and diameters of wire to be treated.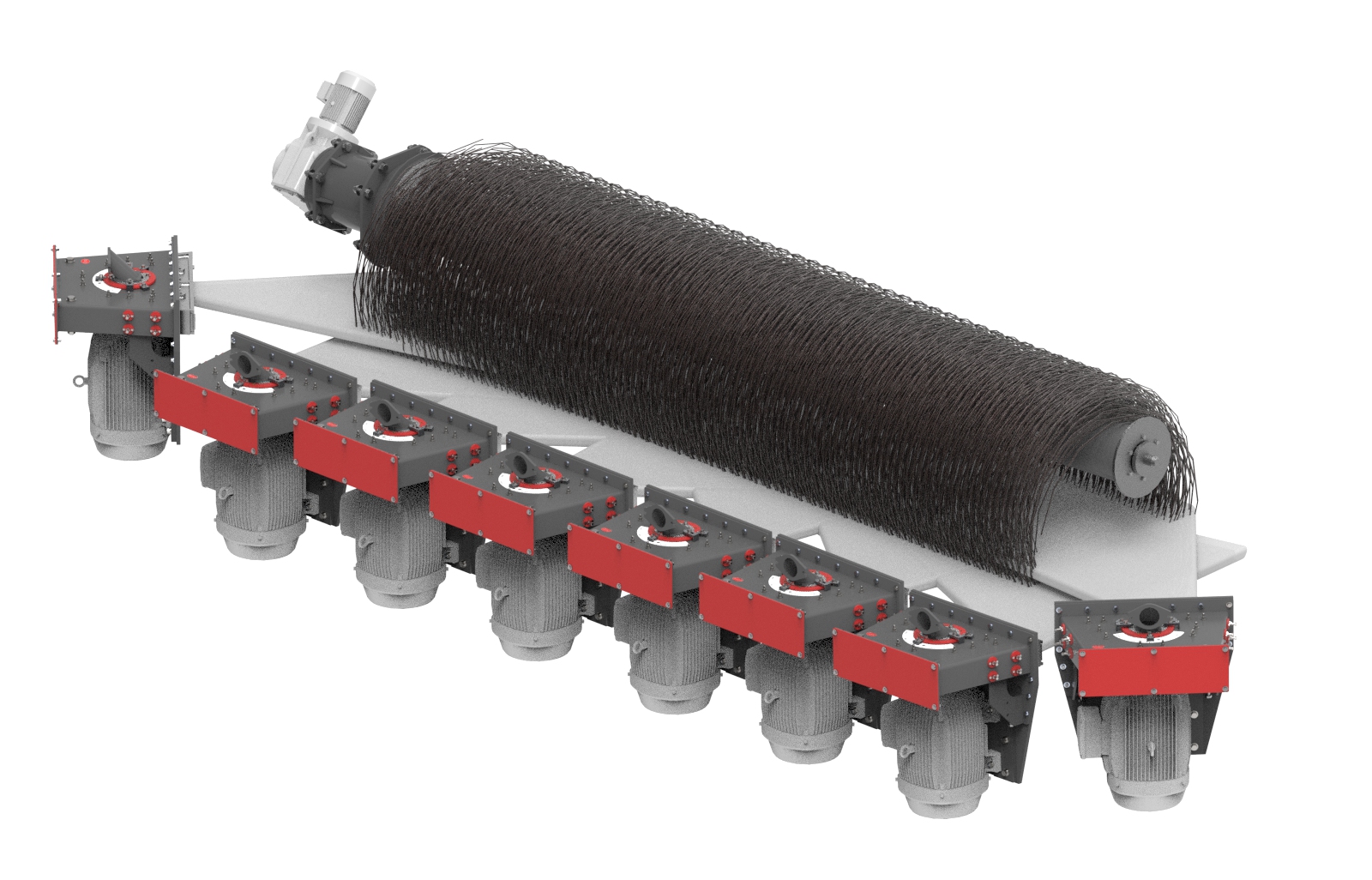 Two models of machines available, COIL4 and COIL5 with 4m and 5m mandrel and 6 and 8 turbines, respectively, ensure optimum coverage in the rolls of processed wires. According to customer requirements, COIL equipment can have one or two mandrel loading doors.
The double door machine minimizes downtime and optimizes the process by allowing the loading of a coil while the inside of the equipment is being blasting.
---
Features Construction
Blast Cabinet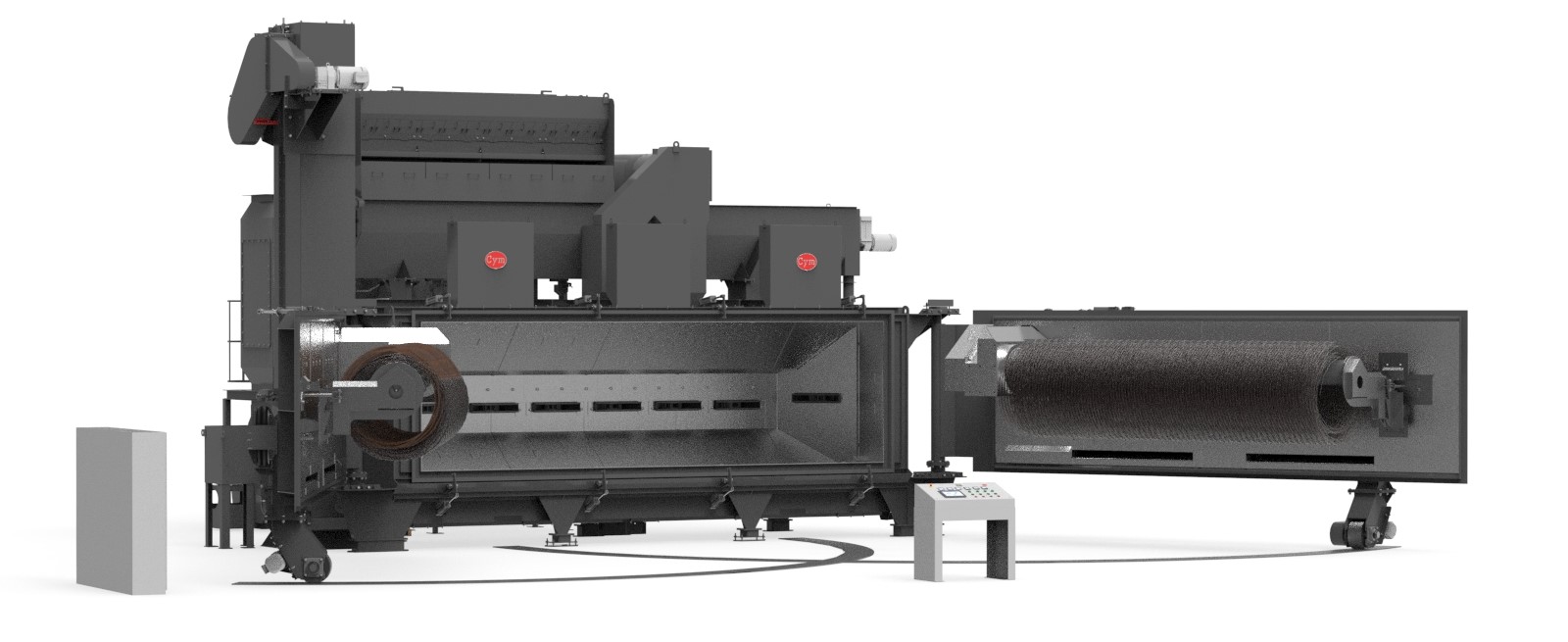 Triple housing layers

External 1010 steel - 8 - 12 mm thick
Double internal liners coverage

100% coverage 4 mm manganese steel (11-14%) full welded
Extra lining (hot area) with 8 -10 mm high CR (≥64Rc). Bolt-on replaceable

Screw conveyor - Spiral 15b30 boron-steel
Door designed to provide access to the blast cabinet and support the mandrel. with electric drive for opening and closing movement. With Second door to reduce dead time
Pneumatic door lock to hold door closed during blast cycle
Mandrel
Mandrel with special lifter for more efficient expansion and retraction of coil to expose all surfaces wire to the abrasive.
4 m y 5 m length
Max load capacity: 3 ton
Swinging type mandrel, allows the door to open independent of the mandrel for easy loading / unloading coils
Pneumatic closing manganese steel plate on the end of the mandrel to ensure that it does not work cantilevered - preventing premature failure due to fatigue
Rubber Shaft coverage
Lifters Steel – SAE 1045
Frequency inverter for rotation control

Blast Wheel
Located strategically with a correct distribution of the shot on the coil to be treated resulting in a better coverage and better performance of the machine
Drive 40 HP (30 Kw) & 50 HP (37.5Kw)
Direct drive
Housing manufacture in MN (11-14%) steel Forming together with the internal liners a double resistant wear wall
High chrome steel Internal liners (≥64Rc). Liners supported by screw with hardened cast steel head for abrasion protection
Positioning and fixing system for control cage, avoiding the risk of incorrect adjustment of the hot spot.
Close labyrinth of abrasive between engine coupling and housing with possibility to mount the turbines in any position
Abrasive Recovery System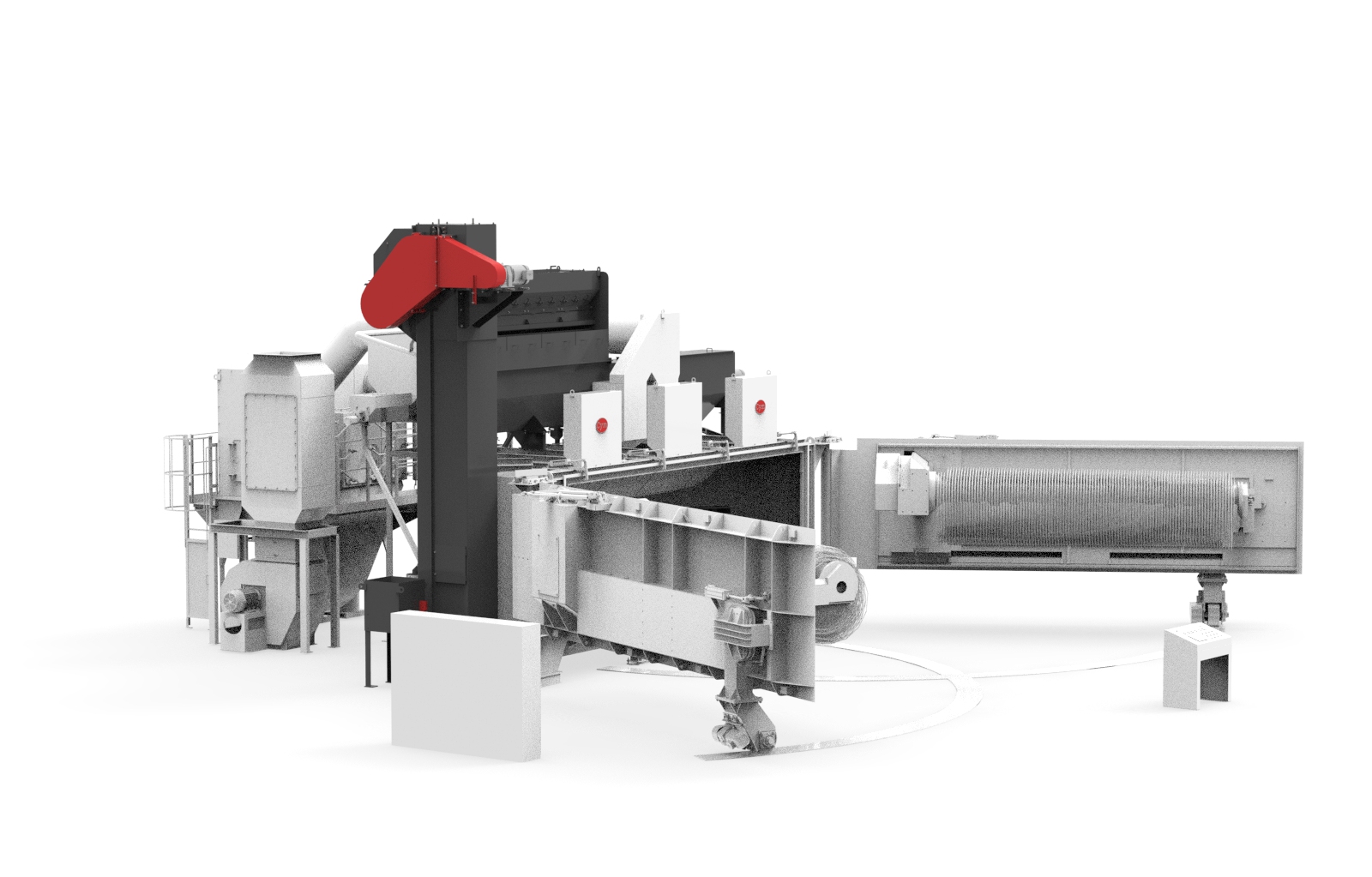 Bucket elevator

Cast bucket – SAE 1035 steel

High efficiency Air flow abrasive cleaning
Upper Screw - Spiral 15b30 boron-steel
Storage hopper for good abrasive
Maintenance platform
Control valves flow
Automatic Abrasive Regeneration System
Dust Collector
Steel construction: 3.2 mm thick
Cartridge media cleaning: reverse Pulse jet
Easy replacement cartridges
Efficiency ? 0.5 micron / 99.9%
Emission < 50 mg/m3
200L dust accumulation drum with lid transition to drum with sleeve filter
Intermediate gravitational separator located between blast cabinet and dust collector allows increasing the air flow inside the cabinet without risk of carry good abrasive to the dust collector
Silencer and Mineral wool cover kit to reduce noise ? 85dBA a 1.52m
Maintenance platform
Electrical Component
Control panel is divided en four (4) cabinets

Control cabinet contactors, electro valves, etc
Operation control cabinet 24 V
Two operation mandrel cabinet 24 V - mounted in each door.

Components and motors: according to customer requirement IEC, Nema, UE, etc.
Siemens PLC control
Total HP/Kw

COIL 4 – 347 HP / 260.25 Kw
COIL 5 - 464 HP / 348 Kw

Movement sensor motors
Cooling system (for maximal temperature: + 45 °c)
Soft Start motors
---
Technical Data - Wire Rod Shot Blasting - COIL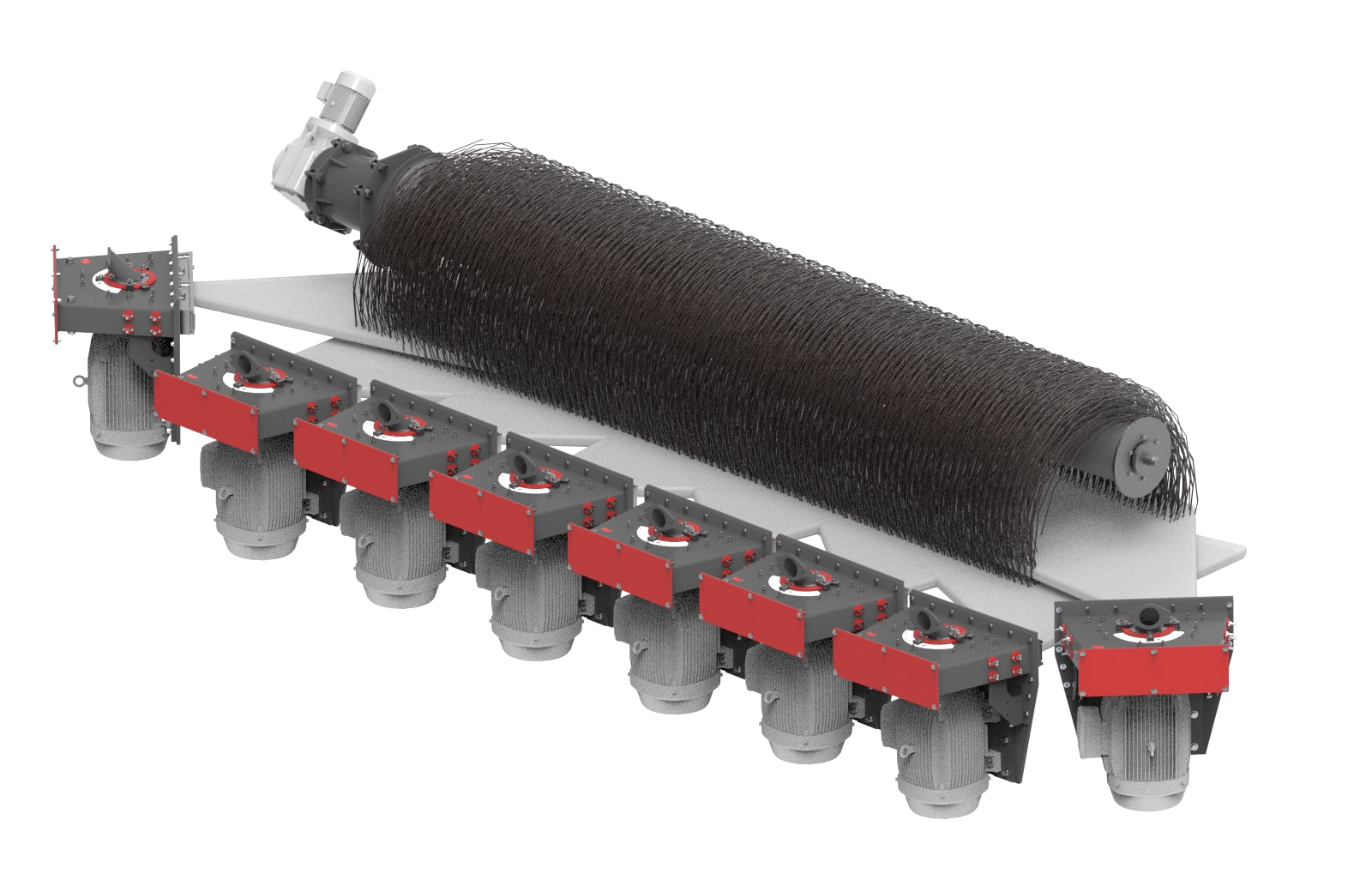 ---
Mechanical Descaling Advantages
Eliminate environmental pollution problems
Do not need facilities for the regeneration or post treatment of waste material such as those required for the treatment of chemical effluents and toxic fumes
When the machine is operated properly they do not cause any health problems or damages to the plant as those caused by the steam released from the chemical descaling process
Lower production costs
Automatic shot blasting process, does not require skilled labor.
Special Project: In case the equipment you need is not on these pages, please contact our Engineering and Sales department, so they can help you develop the best equipment that meets your needs, seeking to reduce your operating costs and increase profitability your production systems
---
Videos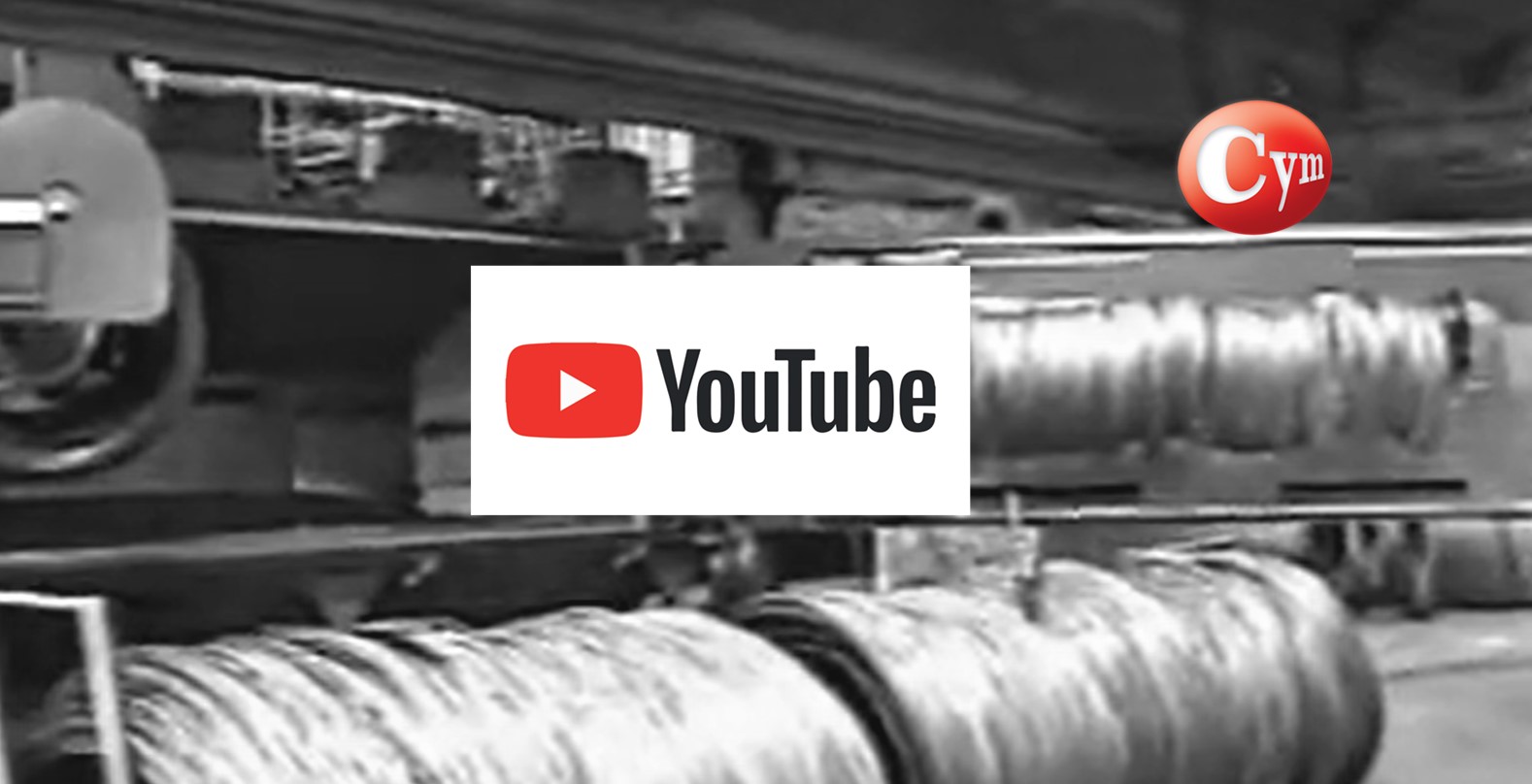 ---
Click on the image to download the brochure (PDF)
---
Photo Galery