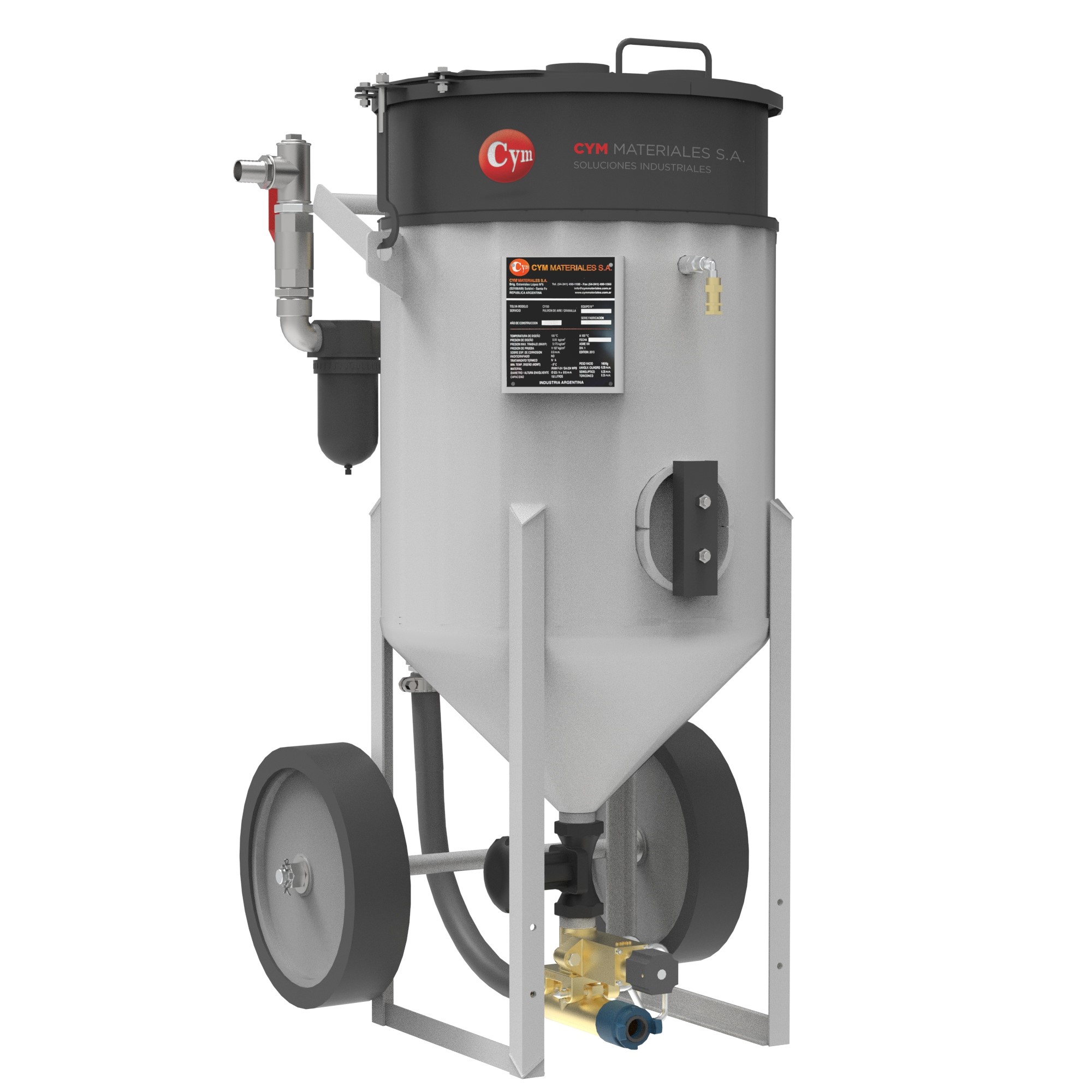 Cym Materiales SA manufactures and markets equipment for cleaning and restoring all types of surfaces by means of shot blasting with sodium bicarbonate. This treatment allows to achieve effective, fast and ecological results, replacing in specific cases the usual methods of cleaning surfaces, such as shot blasting or sandblasting.
This cleaning system uses pressure sodium bicarbonate as an abrasive. Replacing both water-washing, sandblasting and shot blasting, achieving an excellent degree of finish and cleaning on delicate surfaces.
How does the process work?
The bicarbonate particles are propelled by compressed air through our machines, achieving impact with the treated surface and making an almost immediate and impeccable cleaning. The advantage of this system is that it keeps treated surfaces such as aluminum, stainless steel, brick, stone, marble, fiberglass, seals and plastic, among others, in perfect condition after cleaning.
The process is carried out in a single step, without creating contaminants. This system does not allow the recovery of the abrasive, which ensures that the result is always optimal. The softness of the bicarbonate crystals produces on very fragile surfaces such as glass, an optimal cleaning without any etching effect. This system does not require any type of previous surface preparation, without the need to degrease, due to the alkaline nature of the product. Sodium bicarbonate dissolves easily in fresh water, allowing at the same time to be discharged into treatment systems or open waters without contaminating, reducing even unpleasant odors.
Characteristics of baking soda
It is not toxic, neither by inhalation nor by contact with the skin, as well as by ingestion.
It is not irritating to eyes or skin.
Thanks to its properties, it replaces almost all conventional chemicals on the market that are used to remove oils and greases.
It is applicable to all types of automotive use, sheet metal and paint shops, automotive workshops, grinding machines, etc. Both to remove paint from a car or a motorcycle. The advantage of this system is that the paint, the grease or the layer to be removed is removed in a single operation and without breaking the metal surface.
It is very useful for cleaning engines since its delicate components are not damaged by bicarbonate. Also in car restoration, removing grease, oil and any sediment without damaging the parts.
Restoration of monuments as it provides professional cleaning without causing any damage to the surfaces. Removes mold, pigmentation, stains and paint from marble, concrete, stone, granite etc.
The bicarbonate cleaning system is the solution for cleaning equipment in the food industry, such as ovens, grills, among many others. The main benefit of using it in this industry is that since bicarbonate is a food, it does not produce any risk.
It is common to see construction surfaces with grease, paint pollution, etc., on walls and ceilings. Through this system, the use of chemicals is avoided, reaching the solution quickly, ecologically and easily.
The use of bicarbonate is totally suitable for refineries, chemical plants and grain elevators, because it does not produce sparks.
Benefits of using sodium bicarbonate:
It is Biodegradable
It is soluble in water
It is not flammable
Does not produce fumes
It is not toxic according to OSHA parameters
Can be used with both hot and cold water under pressure
Uses permanent stock conventional compressed air spare parts.
For more information, consult our engineering and sales departments who will advise you on the implementation of our turbines, as well as everything related to equipment, processes, finishes, productions and automation of blasting equipment.
Download pdf
---
Photo Galery