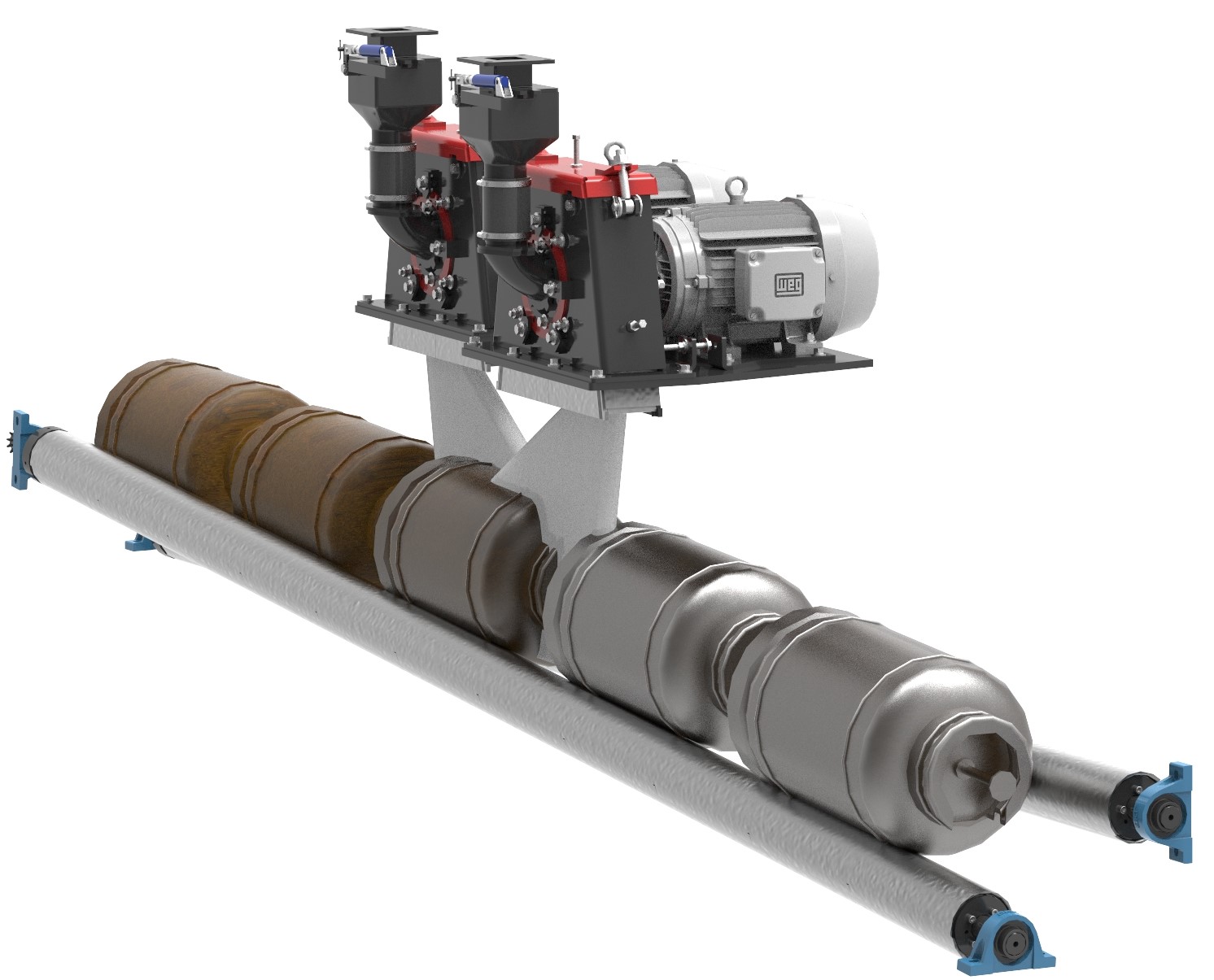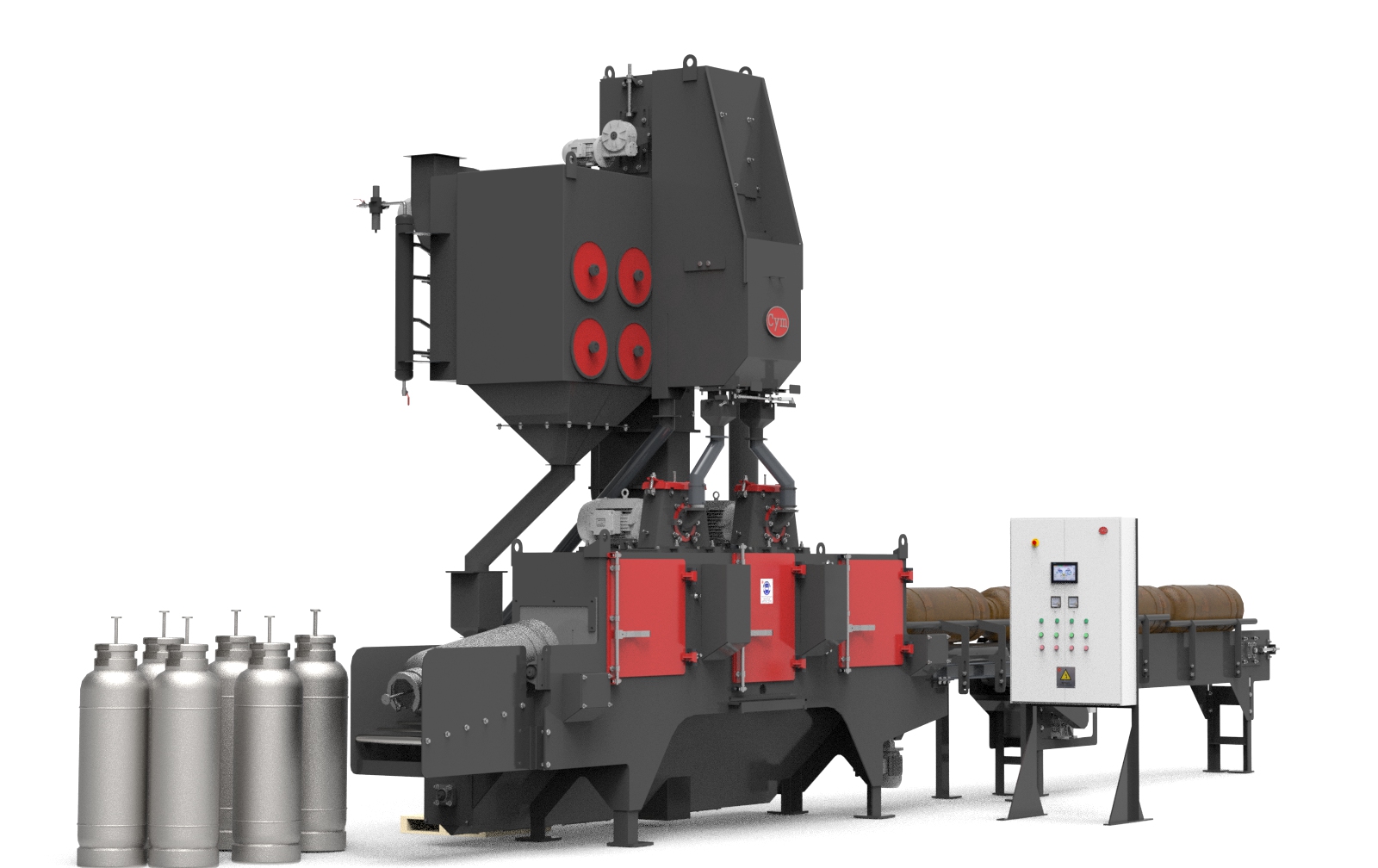 Cym Materiales SA presents GAR its complete line of continuous shot blasting machine for new or used LPG and CNG cylinders, removing liquid or powder paints, rust, scale and other contaminants, leaving the surfaces ready to apply all type of coating.
GAR machine meets the highest demands of work being the same robust, reliable and compact and thanks to an exclusive design and applied know-how, ensure high productivity at a low cost operating and investment working with a non-polluting process of the environment.
Depending on the production process of each client, our machines can be complemented with a series of additional equipment that favors the automation and optimization of the same by attaching external horizontal or vertical passage conveyors with automatic loading and unloading systems and dosing of cylinder entry into the machine.
---
Features Construction
Blast Cabinet
External structure with robust and compact design made of SAE1010 steel.
Internal lining made of high chrome cast steel (≥64Rc) and MN Steel (11-14)
Screw conveyor - Spiral 15b30 boron-steel
Access door blast cabinet
Inlet and outlet chambers with sealing curtains to minimize abrasive escape from the blast compartment
External Chain Conveyor
For continuous loading cylinders
Internal Cylinder Conveyor
Internal RI and RD conveyors with simultaneous advance and rotation system exposing the entire surface of the cylinders to shot blasting

RI- Non-parallel rollers, with low maintenance cost.
RD – Diablo rollers, recommended for use on machines with high cylinder production

Rollers made of high chrome cast steel (≥64Rc)
Variable cylinder advance speed for the different sizes and blasting qualities required
Blast Wheel Unit
Located strategically with a correct distribution of shot on the cylinders to be treated resulting in a better coverage and better performance of the machine
Direct Drive from 10 HP up to 60 HP
Housing manufacture in MN (11-14%) steel Forming together with the internal liners and double resistant wear wall
High chrome steel Internal liners (≥64Rc). Liners attached by screw with hardened cast steel head cover for abrasion protection
Positioning and fixing system for control cage, eliminates the risk of incorrect adjustment of the hot spot.
Labyrinth seal of abrasive between engine coupling and housing with possibility to mount the turbines in any position
Abrasive Recovery System
Bucket elevator

Cast bucket – SAE 1035 steel

High efficiency Air flow abrasive cleaning
Upper Screw - Spiral 15b30 boron-steel
Storage hopper for good abrasive
Maintenance platform
Pneumatic Valves flow
Optional

Automatic Abrasive Regeneration
Dust Collector
Steel construction: 3.2 mm thick
Cartridge media cleaning: reverse Pulse jet
Easy replacement of cartridges
Efficiency ≥ 0.5 micron / 99.9%
Emission < 1 mg/m3
200L dust accumulation drum with lid transition to drum with sleeve filter
Intermediate gravitational separator located between blast cabinet and dust collector allows for increasing the air flow inside the cabinet without risk of carrying good abrasive to the dust collector drum
Optional

Silencer and Mineral wool cover kit to reduce noise ≤ 85dBA a 1.52m
Maintenance platform
Electric Component
Control panel for operation control
Components and motors: according to customer requirement IEC, Nema, UL, etc.
PLC control: Siemens
Emergency stop button: included
Wire cables to connect control panel and motors
Optional

Movement sensor motors
Cooling
Soft Start motors
Ewon comunication for remote control
---
Technical Data –Cylinder Shot Blasting Machine - GAR
---
Advantages in the use of Cym Shot Blasting Machines
High production volume, with minimal operating cost.
Enhanced finish consistency of processed parts.
Automatic shot blasting process which does not require skilled labor • With proper equipment operation, there are no health problems for the staff, or damage to the facilities and not pollute the environment
---
Alternative Shot Blasting Equipment
Batch Shot Blasting Machine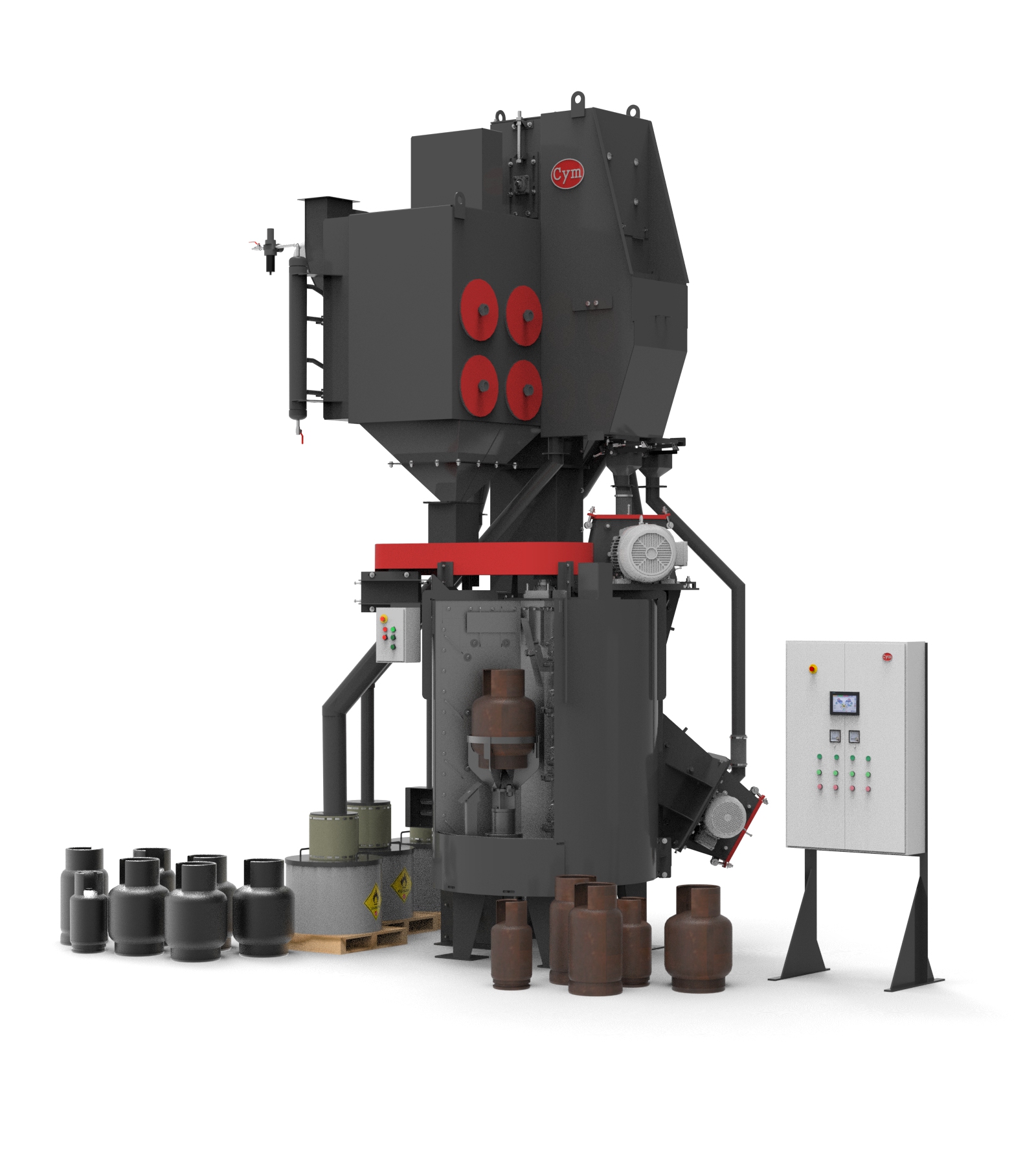 Recommended for processing low productions of LPG, CNG, fire extinguishers and air gases cylinders.
ECO with parallel rollers to process cylinders in horizontal position. It allows to process the whole range of cylinders being more focused on oxygen and CNG tubes
CAB and SAT Cylinders are processed in a vertical position hanging on devices on hooks. Depending on the size of the cylinder to be shot, one or more can be loaded simultaneously.
Continuous Hook Blasting Machine
Two lines of continuous hook conveyor

TUN for shot blasting small and medium size cylinders
EST equipped with 8 or 12 turbines allows to process small, medium and large cylinders size.

They can work autonomously or be coupled to the same hook conveyor that occupies the paint line, thus avoiding cylinder manipulation between both processes.
Blastroom
Flexible blasting process allows to process all kinds of pieces that, due to their size or complexity, cannot be processed in automatic shot blasting machines
One or more operators are inside the blastroom during the blasting process using pressure blast pot to project the abrasive.
A protective suit and a helmet protect the operator from abrasive impact,
In combination with nozzle manipulators installed in the blastroom, surfaces can be automatically processed
---
Download Brochure and video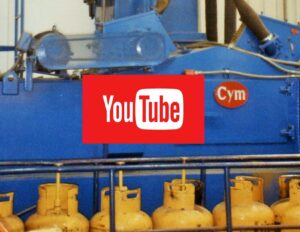 ---
Photo Galery