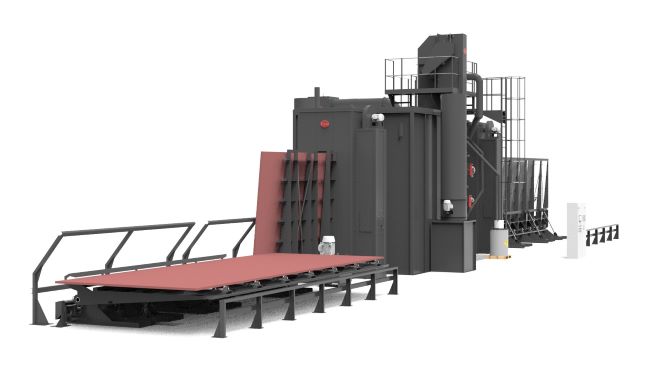 Cym Materiales SA manufactures complete lines for the automatic shot blasting and painting of plates with vertical continuous passage. Its unique design allows parts to be processed with high productivity and minimal operating cost.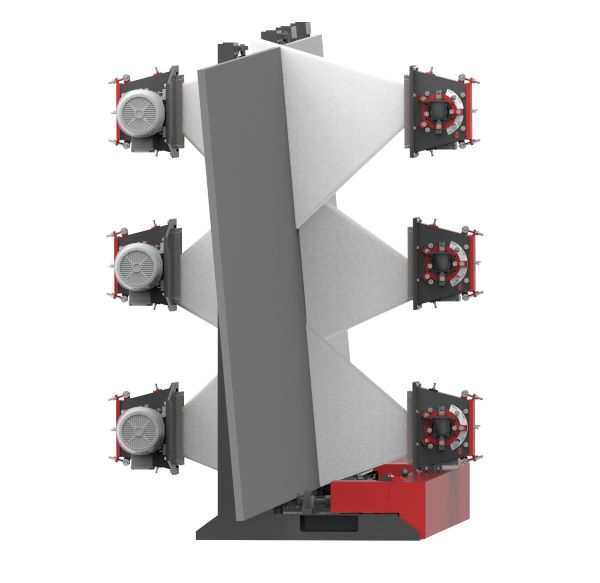 The blasting equipment is complemented with paint booths and in-line drying ovens for shop primer applications, avoiding unnecessary handling and optimizing production times and costs. The design and technology of our equipment guarantee the safety of the personnel and the care and hygiene of the facilities and the environment.
The blasting and painting lines for vertical passage plates are made up of:
Cross transfer conveyor
Inlet roller conveyor
Pre-heater
Shot blasting equipment
Paint spray application booth with automatic reciprocators
Drying chamber
Outlet roller table
Cross transfer conveyor
Controls and instrumentation.
---
Features Construction
Blast Cabinet
Triple housing layers

External 1010 steel - 8 - 12 mm thick
Double internal liners coverage

100% coverage 4 mm manganese steel (11-14%) full welded
Extra lining (hot area) with 8 -10 mm high CR (?64Rc). Bolt-on replaceable

Screw conveyor - Spiral 15b30 boron-steel
Wide interior access doors
Internal roller conveyor
Blower
Abrasive Recirculation System
Bucket elevatorCast bucket – SAE 1035 steel
High efficiency Air flow abrasive cleaning
Upper Screw - Spiral 15b30 boron-steel
Storage hopper for good abrasive
Maintenance platform
Control valves flow
Automatic Abrasive Regeneration System
Blast Wheels
Located strategically with a correct distribution of the shot on the coil to be treated resulting in a better coverage and better performance of the machine
Direct drive - 10 Hp to 50 Hp
Housing manufacture in MN (11-14%) steel Forming together with the internal liners a double resistant wear wall
High chrome steel Internal liners (?64Rc). Liners supported by screw with hardened cast steel head for abrasion protection
Positioning and fixing system for control cage, avoiding the risk of incorrect adjustment of the hot spot.
Close labyrinth of abrasive between engine coupling and housing with possibility to mount the turbines in any position
Dust Collector
Steel construction: 3.2 mm thick
Cartridge media cleaning: reverse Pulse jet
Easy replacement cartridges
Efficiency ? 0.5 micron / 99.9%
Emission < 50 mg/m3
200L dust accumulation drum with lid transition to drum with sleeve filter
Intermediate gravitational separator located between blast cabinet and dust collector allows increasing the air flow inside the cabinet without risk of carry good abrasive to the dust collector
Silencer and Mineral wool cover kit to reduce noise ? 85dBA a 1.52m
Maintenance platform
Paint Booth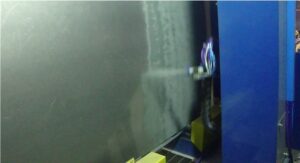 Cabin floors and walls covered in electrostatic film for easy cleaning.
Downward air circulation with double filter integrated in the cab roof.
Double cascade filtration (folded dry filters and Paint-stop filters (fiberglass)
Automatic pistol movement
Sensor for detection of width, length and location of the plate
Airless pump
Drying Chamber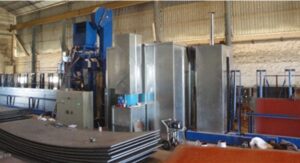 Used for

Evaporation of moisture located prior to entering the blasting equipment
Solvent curing and evaporation located downstream of the spray booth

Double flow of hot air
Air circulation range 20 ° - 60 ° C
External Conveyor
Parallel rollers
V rollers for plate support
Side plates for backing plates
Variable lengths as required
Adjustable plate feed speed for different blast qualities
Plate loading and unloading system in horizontal position
Transfer and feeding equipment for loading and unloading of parts
Electrical Components
Control panel for operation control
Components and motors: according to customer requirement IEC, Nema, UL, etc.
PLC control: Siemens
Emergency stop button: included
Wire cables to connect control panel and motors
Movement sensor motors
Cooling system (for maximal temperature: + 45 °c)
Soft Start motor
---
Technical Data - Steel Plate Shot Blasting Machines - CH-V
Plate passage lines in vertical position (CH-V) can work with angular shot, generating high roughness with good anchoring profile
The blasting equipment is complemented by automatic painting booths and drying ovens for shop-primer applications.
Plate loading can be done in a vertical or horizontal position.
Lower investment cost and operating cost than horizontal passage CH-H equipment.
With no possibility of abrasive build-up on the sheets, it does not require the use of rotating brushes and abrasive blowers.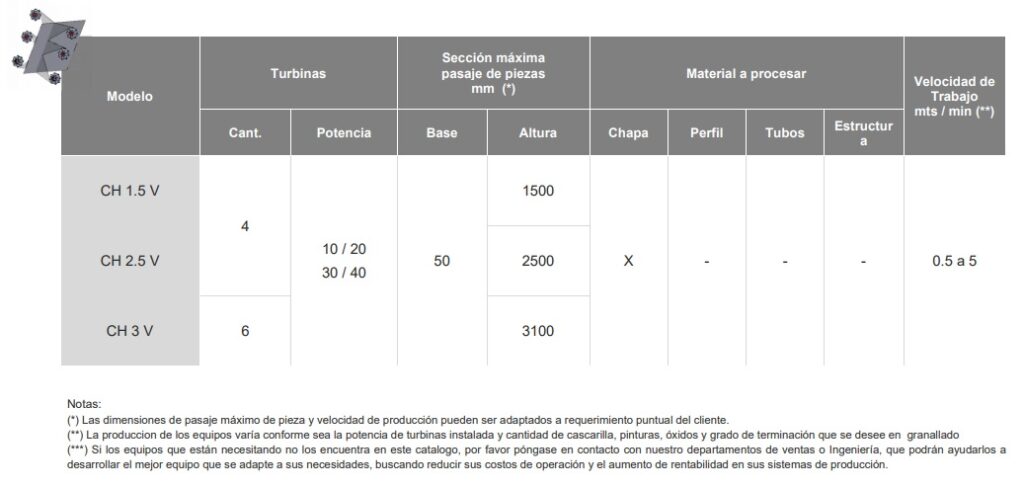 ---
Other Equipment Used in the Steel Industry
Shot Blasting and Painting Line CH-H
Specially designed to process plates and different types of profiles (angle, L, H, I, etc.) with a maximum flange of 150 mm high (300 mm total)
The blasting equipment is complemented by automatic painting booths and drying ovens for shop-primer applications.
Shot Blasting Lines PER and EST
They process all kinds of raw materials and welded structures including tubes, spools, plates, angle profiles, I, H, welded structures and accessories.
Recommended for processes that require work flexibility, they allow a quick set-up to process different sizes and types of parts.
According to the model, the equipment is equipped with four to sixteen blasting turbines
Parts can be moved with parallel roller beds or overhead conveyors
Manual Blast Rooms
Flexible shot blasting process allows blasting all types of parts that, due to their size or complexity, cannot be processed in automatic shot blasting machines
One or more operators work inside the blast room using personal protective equipment
Pressure system with remote control dead man for abrasive projection
Rooms can be automated by adding robots or nozzle handlers, eliminating manual labor
GPP - Portable Shot Blasting Machine
Portable closed-circuit equipment allows blasting steel plates, ship hull floors, floors and ceilings of oil storage tanks, etc.
Productions between 20 m2 and 60 m2 / hour
Blasting and Painting Line for all types of Welded Structures
3D continuous flow blasting, painting and drying facilities developed to process all types of welded structures, profiles, plates, satisfying the demands of all types of metalworking industry
Used in process lines that require high production, process flexibility and a wide variety of parts, they allow the application of coatings on elements of different shapes, weights and sizes.
Its 3D concept reduces the area occupied in the plant, averaging a space of 15m x 30m for a typical installation of two paint booths with their respective curing ovens, processing around 45 tons. steel per shift, minimizing downtime and damage to parts due to handling with minimal operating cost.
Special Projects: In case the equipment you need is not on these pages, please contact our Engineering and Sales department, so they can help you develop the best equipment that meets your needs, seeking to reduce your operating costs and increase profitability your production systems
Videos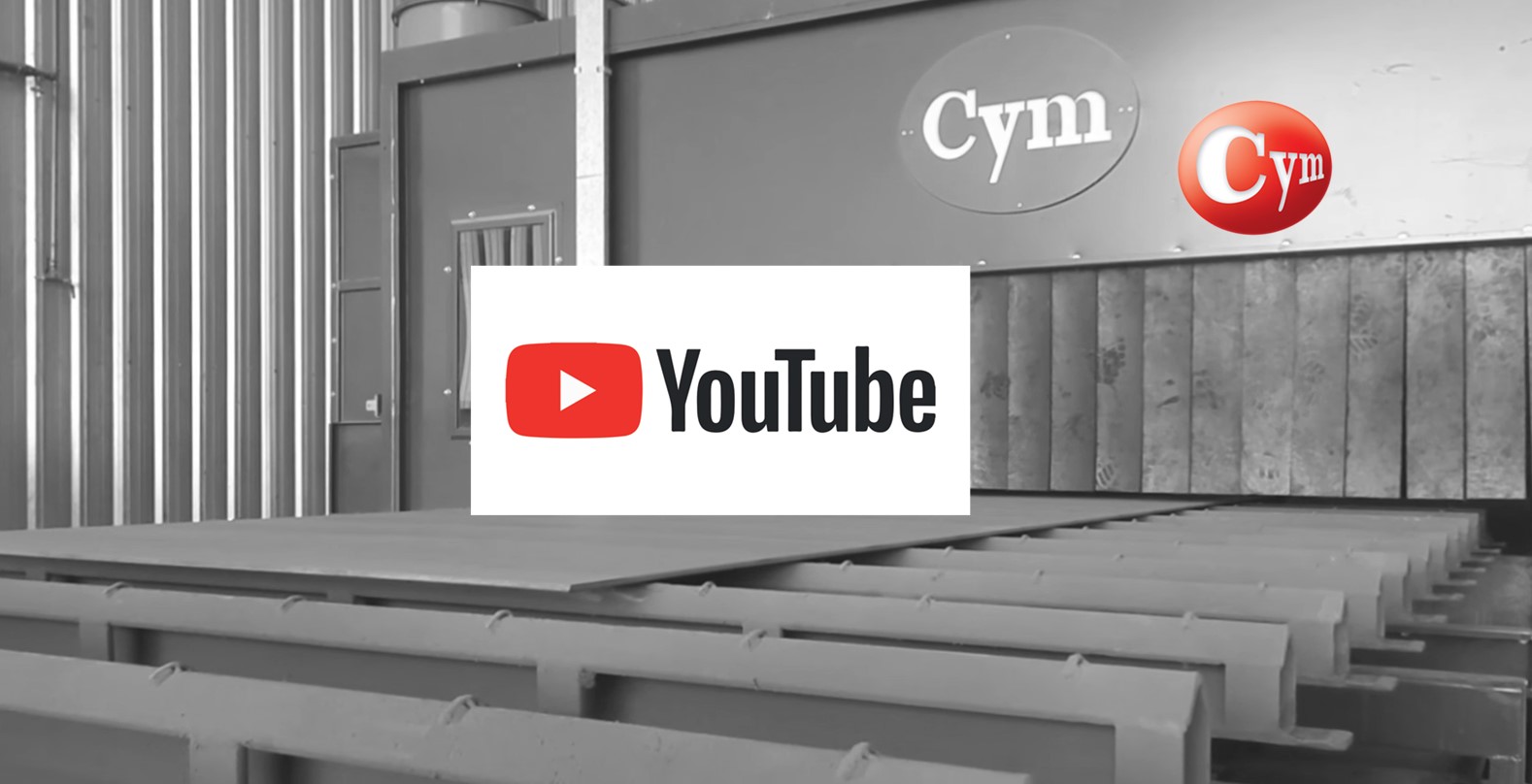 ---
Click on the image to download the brochure (PDF)
---
Photo Galery