Tumble belt shot blasting machines are the most universal among all shotblasters as their design makes them suitable for processing parts of different sizes in bulk loads Cym Materiales SA manufactures two groups of tumble belt machines.
These types of tumble belt shot blasting machines are very easy to operate. The process starts with the loading of the parts on the belt either manually or through an automatic loading system. Once the door is closed the blasting cycle initiates. The wheels and the belt start spinning producing a continuous rotation of the parts thereby ensuring that all components are exposed to the shot blasting stream for consistent cleaning. When the blasting process finishes, the machine stops automatically allowing the unloading of the parts to take place. Then, the operator moves the belt in the reverse direction to prepare the machine for a new load.
---
Main uses and applications of tumble belt shot blasting machines
Tumble belt shot blasting equipment are very simple to operate and are used, among other applications, for the following processes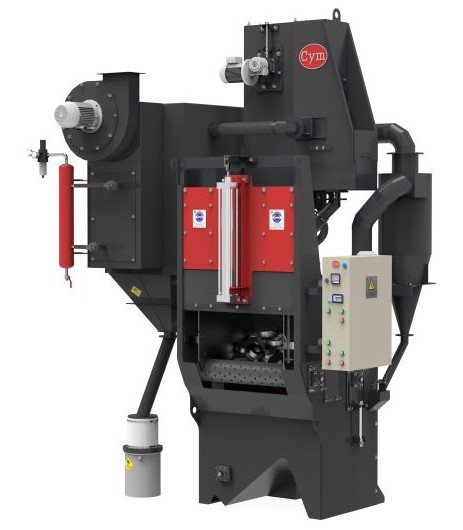 Surface preparation for paint, metal, rubber, etc.
Pickling of forgings or parts heat treated
Blasting Sanding of castings in ferrous and non-ferrous metals.
Deburring of metallic and non-metallic parts.
Elimination of oxides and scale
Shot Peening
---
Cym Materiales SA manufactures two groups of tumble belt machines.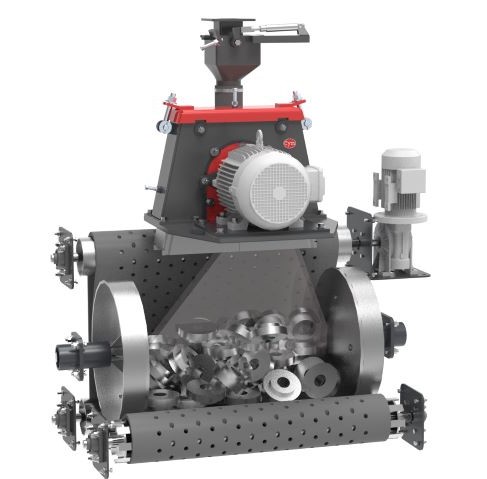 The blasting units belonging to the first group are rather small with one turbine and a load capacity range of 20 to 60 liters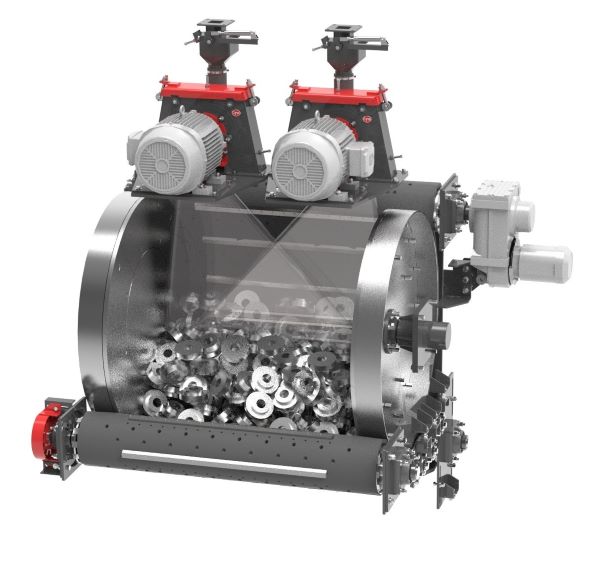 The second group has two turbines and a load capacity from 130 to 900 liters.
---
---
Advantages of the use of 2-turbine tumble belt machines Blasting time reduced between 40% and 50% with similar installed power.
Maintenance costs reduced by better exploitation of the equipment.
Amount of blast consumption reduced by finished part.
Electric consumption reduced by blasted part.
Working costs reduced.
More consistent quality of the parts.
---
Downloads and Videos
Special project: In case the equipment you need is not on these pages, please contact our Engineering and Sales department, so they can help you develop the best equipment that meets your needs, seeking to reduce your operating costs and increase profitability your production systems.
---
Photo Galery