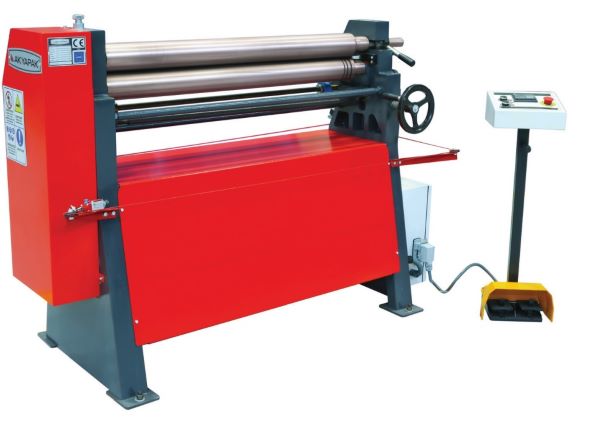 The initial pinch plate rolling machines are best suited for rolling thinner sheets and plates whereas our AHS 4-roll machines are more efficient for thicker materials.
The ASM-S, ASM and AS initial pinch plate rolling machines are widely used in various industries worldwide, with the automotive industry being the predominant one.
Thin sheets of steel are used extensively in automotive customization, such as body panels, fender flares, and other structural components. With the ASM-S, ASM and AS initial pinch plate rolling machines, these steel sheets can be shaped to match the exact specifications required by the project.
Thin Sheets, Excellent Results
One notable company that employs initial pinch plate rolling machines is General Motors (GM). This leading automobile manufacturer employs these machines to produce the flat and circular metal components used in their cars, trucks, and other vehicles. The machines' ability to create precise and consistent thicknesses and diameters allows GM to produce high-quality components that meet their rigorous standards.
Another major company that uses initial pinch plate rolling machines is Caterpillar Inc. This construction equipment manufacturer relies on these machines to create thick plates used in the production of their heavy machinery. The machines' versatility enables Caterpillar to produce various sizes of plates used in different applications, from the construction of buildings to the building of massive dams and bridges.
The ASM-S, ASM and AS machines are not limited to steel however, they can also bend aluminum and brass. There are many custom metal fabrication shops throughout the United States that have been using initial pinch plate rolling machines for years to bend aluminum and brass to meet their clients' specific needs.
---
ASM-S
The ASM-S stands out from the ASM and AS models with its asymmetrical working principle. Unlike the ASM and AS, the ASM-S uses a motor with variable frequency control, which optimizes the energy input required for plate rolling. With this feature, plate rolling machines can run smoothly, with little or no energy wastage.
Another advantage of the ASM-S is the improved accuracy in plate rolling. The technology used ensures that the material being rolled is always in contact with the top and bottom rolls. This minimizes the risk of deformity and produces high-quality rolled plates with uniform thickness and flatness.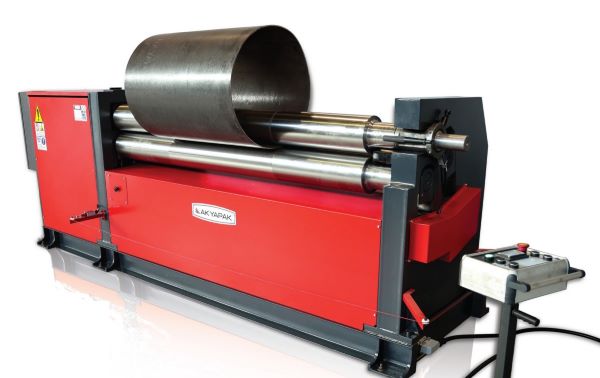 The use of asymmetrical working principle in initial pinch plate rolling machines also leads to reduced material waste. The system's precision and accuracy enable it to make fewer mistakes, leading to less waste during the rolling process. This ultimately translates to cost savings for the business, as less raw materials are required to produce the same amount of finished products.
Furthermore, asymmetrical working principle reduces the wear and tear on the rolls, resulting in longer machine life and fewer maintenance costs. The improved rolling accuracy and reduction in energy consumption also lead to a reduction in maintenance and repair expenses.
Another feature of the ASM-S is its steel construction body in comparison to the cast iron body of the ASM and AS models. ST-52 (also known as DIN 2391 ST-52) is a type of high-quality carbon manganese steel that is widely used in manufacturing industries due to its excellent mechanical properties.
The ST-52 designation indicates that the steel is cold drawn, which means it is manufactured using a process that involves pulling the material through a series of dies to produce a finished product with a more uniform shape and tighter tolerances. Because of the high tensile strength of the steel, the ASM-S has excellent resistance to corrosion and wear, making it an ideal machine for heavy-duty applications. Many manufacturers and engineers worldwide prefer ST-52 and if you are in the metalworking industry, the ASM-S is an excellent choice.
Overall, the ASM-S provides significant benefits to metalworking businesses. From reduced energy consumption and improved accuracy to lower material waste and maintenance costs, the ASM-S has a positive impact on a company's bottom line. Investing in this technology is a worthwhile decision for any business looking to improve productivity and profitability.
Standard Features:
Cone bending device
Induction hardened rolls
Motorized back roll (up-down motions)
Lower roll moves up and down through hand wheel
Steel (St-52) construction body
Asymmetrical working principle
Swiveling top roll
Central rolls are driven by electric motor and planetary reducer and with gear system
Separate moving control panel
Certified by CE, ISO9001 – 2008, TSEK and TURQUM
Optional Features:
Digital display for back roll
Motorized lower roll (up and down motion)
Extended rolls
Profile rolls
Motors in variable voltage and frequency
---
ASM
Sometimes the best solution isn't just one option, but rather a combination of the best features from several choices. ASM-S and AS may have their differences, but together they create something truly unique and remarkable.
The ASM is a combination of ASM-S and AS, where the ASM's cast iron body adds character and charm, but also uses a motor instead of manual bending.
The cost-effectiveness of cast iron has always made it a top choice among manufacturing companies. Its cost-per-unit is significantly lower than many other metals and alloys used in manufacturing, such as steel, titanium or aluminum.
In this sense, the ASM is a cost-effective solution for those that are OK without a sleek, modern look of the ASM-S but still avoid manual bending such as in AS.
Standard Features:
Cast iron body
Central rolls are driven by electric motor and planetary reducer and with gear system
Swiveling top roll
Main motor with self-brake
Cone bending device
Lower and back rolls move up and down through hand wheel
Separate moving control panel and foot pedal
CE, ISO 9001 -2008,TSEK and TURQUM certified machine
Optional Features:
Induction hardened rolls
Motorized back roll (up and down motion)
Digital display for back roll
Motors in variable voltage and frequency
---
AS
As a metalworking professional, you understand that investing in the right equipment is crucial to ensure a smooth and efficient operation. If you're in the market for a plate roll machine, consider getting one that uses a cast iron body and manual bending, such as our AS model.
Here are some of the benefits you can expect from this type of equipment:
Durability and Stability: Cast iron is known for its exceptional strength and rigidity, which means that your initial pinch plate roll machine can withstand the heavy loads and pressure of metalworking operations. The manual bending feature allows for greater precision, while the cast iron body provides the necessary stability to ensure accurate and consistent bending results.
Cost-effectiveness: One of the best things about manual bending machines with a cast iron body is their cost-effectiveness. These machines are less expensive to purchase, operate and maintain compared to other high-tech hydraulic machines, making them a more affordable option for small businesses or those on a tight budget.
User-Friendliness: Despite the heavy-duty performance, an initial pinch plate roll machine with a manual bending feature and cast iron body is surprisingly user-friendly. You don't need any special training or skills to operate the machine, and it is easy to maintain. Plus, you can manually adjust the roll's height and alignment for greater precision and flexibility.
Flexibility and Versatility: Whether you're bending flat or round materials, a cast iron manual bending machine provides unmatched flexibility and versatility. You can adjust the roll to fit various shapes and thicknesses, enabling you to perform different metalworking tasks without the need for additional equipment.
Superior Results: Lastly, using an initial pinch plate roll machine with a cast iron body and manual bending can deliver superior bending results. The manual operation provides a tactile feel, enabling the operator to better control the pressure, which in turn produces smoother bends. Plus, cast iron absorbs vibration, providing better-quality bends without any waviness.
For a tactile feel and manual bending operations, the AS is suited for you.
Standard Features:
Cast iron body
Manual bending (by hand wheel)
Swiveling top roll
Cone bending device
Hand wheel for up and down motions of lower and back rolls
Separate moving control panel and foot pedal (when the option of electric motor purchased)
Optional Features:
Motorized back roll (up and down motion)
Hardened rolls
Digital display for back roll
Body cover (panel)
---
Photo Galery