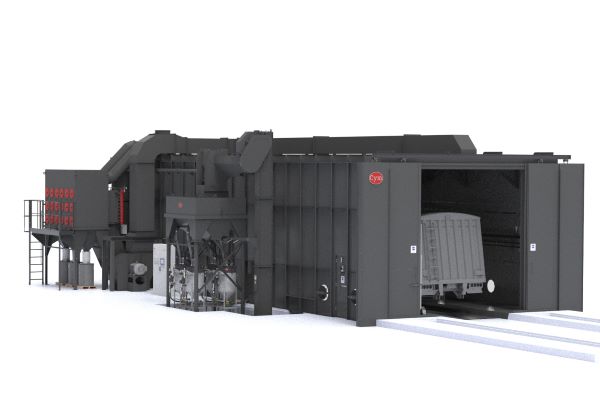 CYM Materiales SA manufactures blast rooms according to the different of work demands. The abrasive is propelled by blasting hoppers and air compressed grit blasting or by means of static or movable centrifugal turbines, depending on the size of the room, the material to be blasted or the speed of work required.
The recovery of the abrasive inside the blasting room can be performed by any of the following methods:
Manually, the operator sweeps the abrasive towards a pit situated at the room corner and which is connected to the dredging elevator.
Manually with screw conveyor , the operator sweeps the abrasive to the screw situated in the room.
Automatic by means of screws, belts or sweepers or by neumatic abrasive recoveries The rooms have dust filtres which generate a continous air speed that sweeps and retains the dust produced during the blasting process, allowing the operator to see clearly inside the room.
---
Technical Details - Shot Blasting Hoppers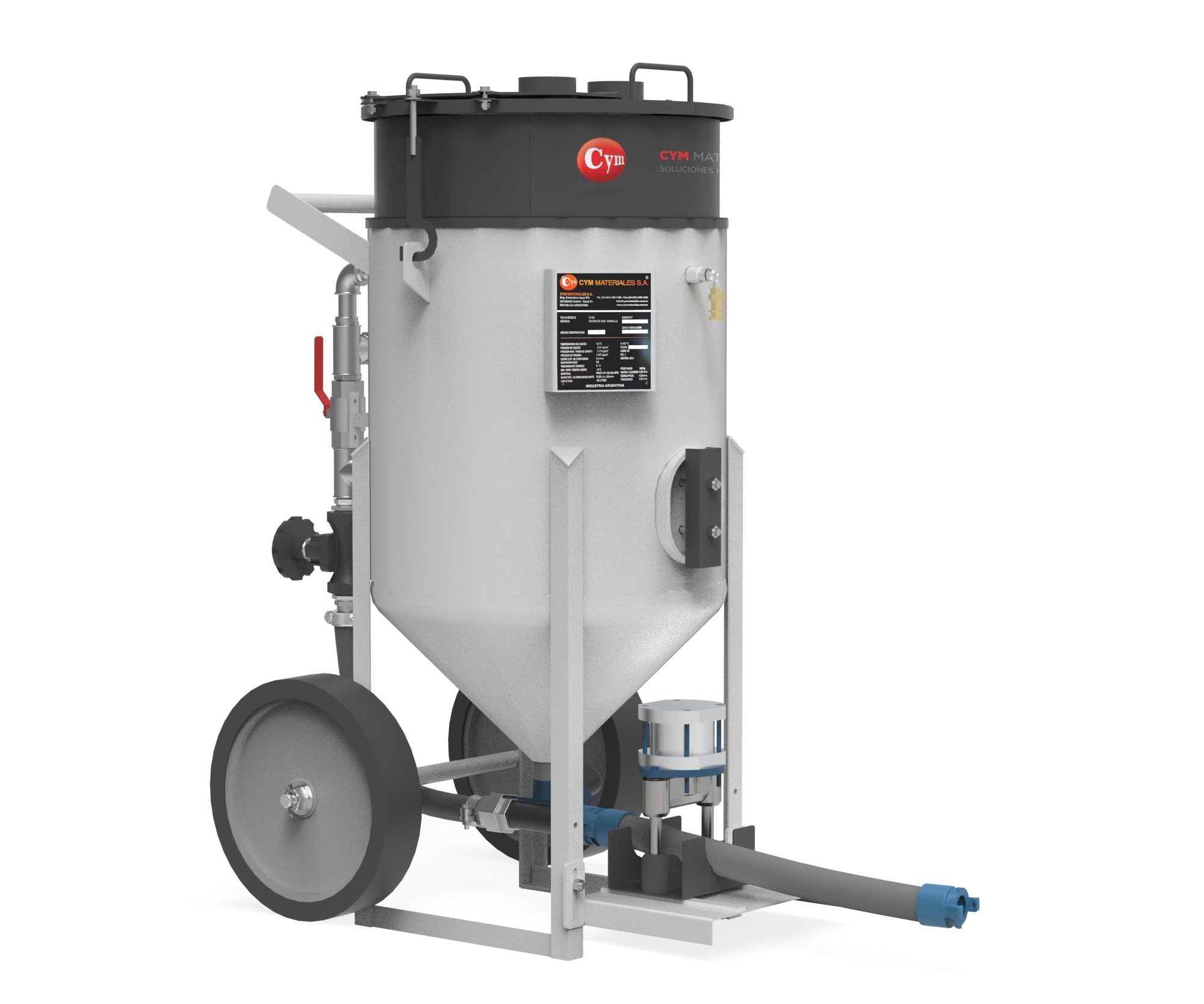 CYM sandblasters have compressed air and abrasive circuits designed for work with high levels of performance and safety, allowing the projecting of different types of abrasives, both metallic (carbon steel shot or stainless steel shot) and mineral (sand, aluminum oxide, slag , garnet, etc.) without the need to make changes to the equipment or control circuit accessories.
Equipment Models and Capabilities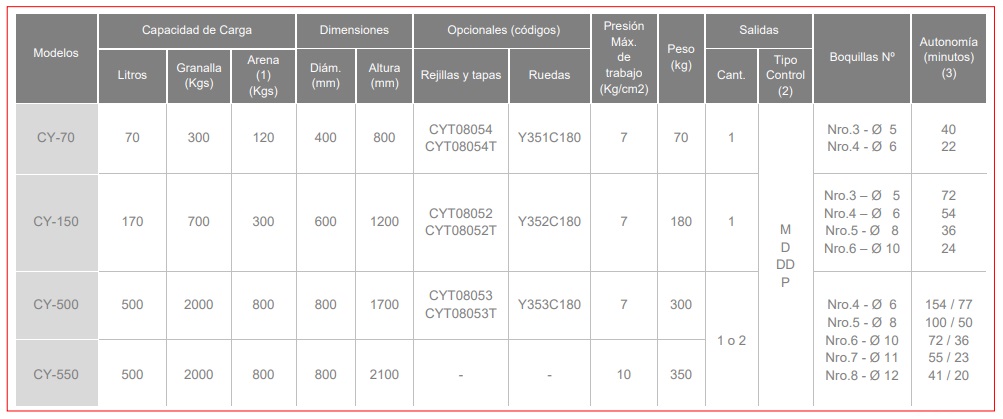 ---
Constructive features
Different sub-systems make up the blast room that together form the operating system of the operation. Their selection is made considering various factors such as the dimensions of the pieces to be shot blasted, the objective of surface preparation, volumes of pieces to be processed, qualities of shot blasting, etc.
Main Cabinet
Abrasive Reclaimers

Manual Sweep to Side Hopper
Manual Sweep to Transverse Auger
Manual Sweep to Augers H
Automatic sweep

Abrasive Projection - Shot Blasting Hoppers
Operator Protection
Recirculation and Abrasive Cleaning
Dust Vacuum
Accessories

Robots or automatic nozzle manipulators for automatic processes
Parts conveyors
Platforms for work at height
Air dehumidifiers

Electric components
---
Advantages in the use of Blast Rooms:
Versatile system for processing parts of various sizes and complexities
Ideal complement to process parts that due to their complexity or size cannot be processed in automatic turbine blasting equipment
It replaces the unhealthy and precarious sandblasting facilities, being these facilities suitable to share spaces and productive times with any type of industrial process
With a correct operation of the equipment, there are no health problems in personnel or damage to the facilities.
It does not contaminate the environment
---
Industries that use shot blasting processes
Shot blasting of welded structures, profiles and sheets.
Internal and external shot blasting of tubes, spools and wind towers
Shot blasting of rolling equipment, trailers and semi-trailers of trucks, railroad cars, mining hoppers, etc.
Shot blasting of agricultural machinery equipment and components
Shot blasting of electrical transformers
Shot blasting of stainless steel parts for the food and sanitary industries, etc.
Shot blasting of large castings or forgings
Shot blasting of cylinders and tanks for oil, gas, etc.
Shot blasting of ships and their components
Shot blasting of aircraft and their components
Shot blasting for cleaning and surface preparation of all types of metal parts
Special project: In case the equipment you need is not on these pages, please contact our Engineering and Sales department, so they can help you develop the best equipment that meets your needs, seeking to reduce your operating costs and increase profitability your production systems
---
Photo Galery