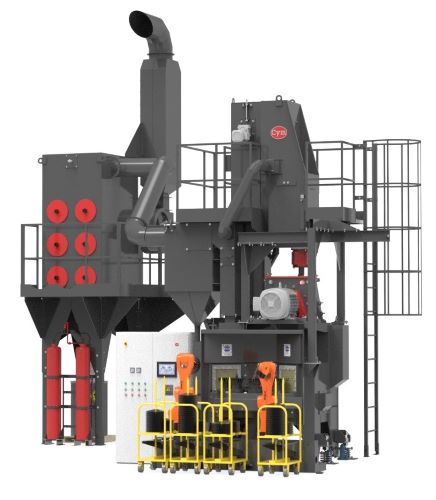 CYM Materiales SA manufactures equipment shot peening for diaphragm springs clutch according to the needs of each customer.
The abrasive is propelled by pressure nozzles or centrifugal turbines.
The number of the nozzles or wheels in each machine depends on the size of the machine and the components to be blasted Shot peening machines are provided with systems of automatic loading and unloading of diaphragm
The essential component of rotary satellite equipment is the center table indexing mechanism that precisely positions the rotary satellites in front of abrasive jets. Satellite equipment allows working simultaneously loading new parts while others are being processed, considerably reducing loading and unloading downtimes compared to tabletop equipment.
In various sizes and configurations, the SAT equipment is modular and can be equipped with 2 to 18 rotating plates and the projection of the abrasive can be carried out by means of centrifugal turbines or by pressure or suction system by compressed air using one or multiple nozzles including systems manipulators or robots for automatic processes.
SAT equipment can be combined with robots or manipulators to carry out parts loading and unloading work, working in automatic manufacturing cells fully integrated with other processes.
Special Projects In case the equipment you need is not found in these pages, please contact our Engineering and Sales department, so they can help them develop the best equipment that meets your needs, seeking to reduce your costs of operation and increase the profitability of your production systems.