The spherical shot (shot) is produced with steel of the best origin, to ensure the high efficiency of the product. It is heat treated under a special process, which ensures that they have a tempered martensitic structure, ensuring resistance to fatigue and operational efficiency. The shot is manufactured in different granulometries and hardnesses, making possible an excellent result in different blasting applications, such as removal of foundry sand, stripping of forgings, flat and round laminates, metal structures, Shot-Peening, surface preparation for paints, metallics, etc.
Manufacturing standards
Manufactured under SAE J444, SAE J-827 and SAE J-1993 standards
Chemical composition
Carbon (C) 0.80% - 1.20% Manganese (Mn)

S-110 0.35% - 1.20%
S-170 0.50% - 1.20%
S-230 0.60% - 1.20%

Silicon (Si)> 0.40%
Phosphorus (P) 0.05%
Sulfide (S) 0.05%
Structure

Completely fine and homogeneous Martensitic structure. The well-controlled quenching operation gives the shot a metallurgical structure in which the iron and carbon atoms are grouped together in the finest and most regular way possible. This structure allows a homogeneity of hardness and resistance within the set of shot particles. Without this structure, the shot could not have the necessary strength for its applications.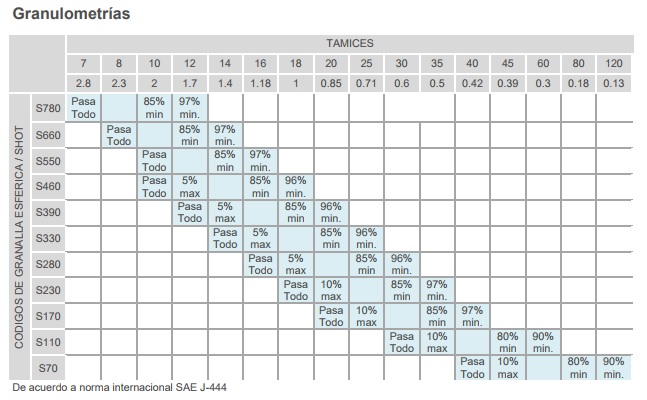 Hardness

The hardness of the spherical shot (shot) has a considerable influence on the cleaning speed and its useful life. If the shot is excessively hard, it performs a good cleaning but it becomes very fragile on impact, breaking easily. On the contrary, if it were of low hardness, it would not clean adequately, consequently, the blasting time increases, making the process onerous.
The standard hardness level of spherical shot or shot is as follows:

For more information please contact
info@cym.com.ar
or phone +54 341 4901100, and our engineering or sales departments will advise you on everything related to equipment, processes, finishes, production and automation of blasting equipment.