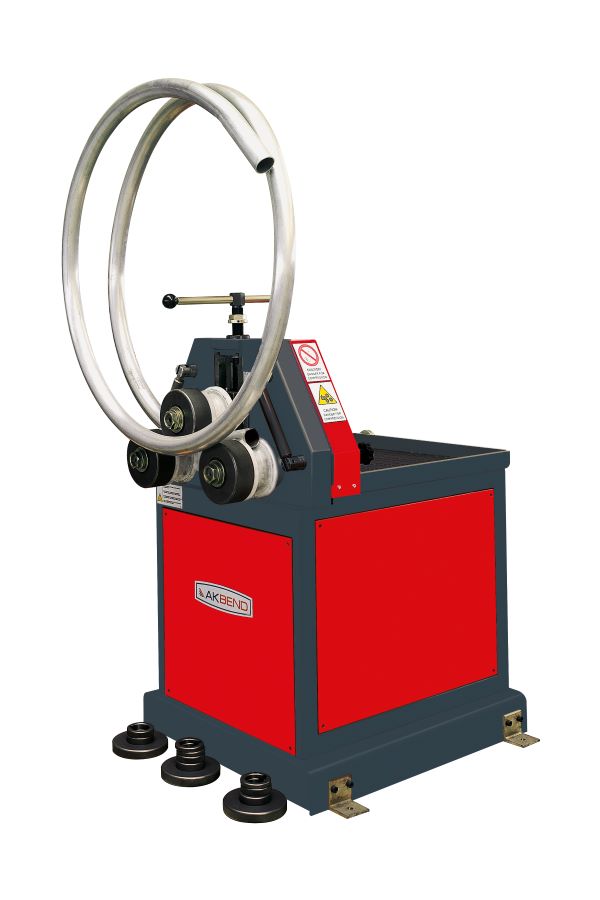 Cym Materiales SA offers extensive alternatives about big sized profile bending machines too. Our machines are strong and reliable with their ST-52 weld construction body.Minimum flexion causes less deformation, by the help of our machines' enlarged roll diameters.
By the help of big measurements of bearings, durability and high bending momentum can be obtained. Hydraulic cylinders' power enables to bend the bigger parts without any difficulty. Practical and universal rollers creates the possibility ofeasiness about bending various kinds of profiles, and this feature gives the opportunityof being more powerful and firm.
Our Profile Bending Machines are 3 rolls driven. This feature allows to have the possibility of making, the high capacity bending processes, real. Secondly, our 3 Rolls Driven machine minimizes the slip of the materials during the bending process. The two bottom rolls are driven hydraulic and they can maketheir movements independent from each other. Therefore, in comparision with the machines which are driven from the top roll, our machines' features enhance the ability of operators and give the opportunity to make prebending process on bothedges. Side supporters can move towards three directions, to reduce the deformationsand to facilitate bending processes, especially about angles and spirals.
---
APK Heavy Series Angle Rolls
Our APK Heavy Series Angle Rolls are built to withstand the toughest conditions and deliver consistent results every time. With minimum flexion, there is less deformation, thanks to our machines' enlarged roll diameters. This ensures that even the most complex profiles are bent with precision and accuracy.
The bearings used in our machines are also of high quality and size, enabling durability and high bending momentum. We know that heavy duty profile bending requires the utmost precision and strength, which is why we ensure our machines are built to meet and exceed these expectations.
APK Medium Series Angle Rolls
APK Medium Series Angle Rolls are designed to deliver outstanding durability and high bending momentum. We achieve this by incorporating large bearings that can withstand heavy loads and perform flawlessly under the most challenging conditions.
Whether you're looking for a profile bending machine for industrial, commercial, or residential purposes, we've got you covered. We offer an extensive range of options, and we're confident that you'll find the perfect match for your needs.
At AKYAPAK®, we believe in providing our customers with high-quality, efficient, and cost-effective solutions. We pride ourselves on our commitment to innovation and customer satisfaction, and we're always working to exceed your expectations.
APK Small Series Angle Rolls
The AKYAPAK® APK Small Series Angle Roll machines are constructed using St-52 welds, making them reliable and strong. With an enlarged roll diameter, minimum flexion is ensured, which prevents any unnecessary deformations.
The durability and high bending momentum of the APK machines are insured due to the large measurements of bearings. Our hydraulic cylinders are immensely powerful, making the bending of larger parts seem effortless.
The practical and universal rollers give you the opportunity to easily bend a variety of sections, resulting in a more robust machine. The fact that our profile bending machines are 3 rolls driven gives you the chance to accomplish high-capacity bending processes, while simultaneously minimizing the slipping of the materials during the bending process.
Additionally, the AKYAPAK® APK Small Series Angle Rolls offer a unique feature not seen in top roll driven machines: the ability to make a pre-bending process on both edges, thus enhancing the operators' abilities.
---
Videos
| | | |
| --- | --- | --- |
| | | |
| APK 121 - Maquina dobladora hidráulica de perfiles | APK 1000 3 | AKBEND apk 81 |
---
Related Products
Special Projects: In case the equipment you need is not listed on these pages, please contact our Engineering and Sales department, so that they can help you develop the best equipment to meet your needs, reducing your operating costs and increasing the profitability of your production systems.
---
Photo Galery