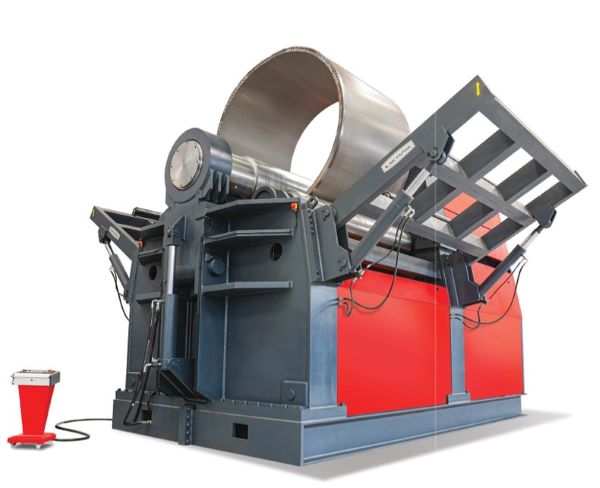 Cym Materiales SA comercialize AKYAPAK hydraulic plate rolling and bending machines that are commonly used in various industrial and manufacturing processes. These machines are primarily utilized to shape and roll sheet metal and plate material, creating cylindrical or conical shaped parts.
Some of the primary applications for these machines include:
Creating large tanks, pipes, and other similar structures for use in the oil and gas industry.
Manufacturing cylindrical or conical shapes for boilers, heat exchangers, and other pressure vessels.
Forming parts for heavy equipment, including cranes, excavators, and bulldozers.
Rolling sheet metal and plate material to create custom architectural designs, such as columns, arches, and decorative trim pieces.
Rolling long and complex metal shapes such as ship hulls.
The versatility and precision of AKYAPAK machines make them a valuable asset to many different manufacturing and industrial operations.
---
AHS 10500 Tank Rolling & Bending Machine
With its heavy-duty rollers and adjustable hydraulic bending arms, the AHS 10500 can handle various metal thicknesses and shapes. It can create tanks with capacity in thickness from 14 ga. to 8" (2 mm to 200 mm) and 20" to 40ft (500mm to 12,000mm). You can trust that your custom tank needs are in good hands with our machine.
What sets the AHS 10500 apart from the rest is its precision and speed. With the use of modern technology, Akyapak has created a system that allows for precise measurements and cuts, resulting in an efficient and seamless tank creation process.
At the heart of the AHS 10500 are highly skilled engineers and technicians. With their expertise, the AHS 10500 can cater to any tank fabrication need – from standard cylindrical tanks to intricate and complex shapes.
In a world where precision, efficiency, and speed are crucial, the AHS 10500 is a game-changer in metal fabrication.
---
ASH 4 ROLL HYDRAULIC SHEET METAL BENDING MACHINE AHS
The AHS is an essential machine for many industries such as aerospace, automotive and construction and comes in a variety of different sizes to handle different thicknesses of metal to meet the specific requirements of each project.
The AHS features a 4-roll design arranged in such a way that all 4 rolls work in tandem to ensure that the sheet is rolled evenly and without distortion. This innovative design provides an even distribution of pressure on the sheet, ensuring uniform rolling and high quality results.
The hydraulic system also provides precise control over the movement of the rollers, which is crucial when working with large, heavy sheets.
---
AHK 3 ROLL HYDRAULIC PLATE ROLLING MACHINE
The AHK can effortlessly shape thick sheets of metal into a variety of complex and unique shapes including cylinders, cones and tubes. The AHK's hydraulic system ensures precise and accurate rolling, meaning that your finished product will have unparalleled precision and quality. The 3-roll configuration further increases efficiency by reducing the number of times the metal has to be rolled, saving time and reducing material wastage.
The hydraulic system also reduces operator fatigue and minimizes physical strain, thereby reducing the risk of injuries and increasing worker safety in your workplace.
Furthermore, the AHK is energy efficient and environmentally friendly. The hydraulic system on the AHK has been engineered to only consume the required amount of power needed to carry out the task at hand. This reduces energy wastage and ensures that your operation is environmentally responsible.
---
AS / ASM / ASM-S 3 INITIAL PINCH PLATE ROLLING MACHINE
The initial pinch plate rolling machines are best suited for rolling thinner sheets and plates whereas our AHS 4-roll machines are more efficient for thicker materials.
The ASM-S, ASM and AS initial pinch plate rolling machines are widely used in various industries worldwide, with the automotive industry being the predominant one.
Thin sheets of steel are used extensively in automotive customization, such as body panels, fender flares, and other structural components. With the ASM-S, ASM and AS initial pinch plate rolling machines, these steel sheets can be shaped to match the exact specifications required by the project.
---
SHEET METAL ROLLING OPTIONS
---
CATALOGS & VIDEOS
---
RELATED EQUIPMENT
---
Photo Galery