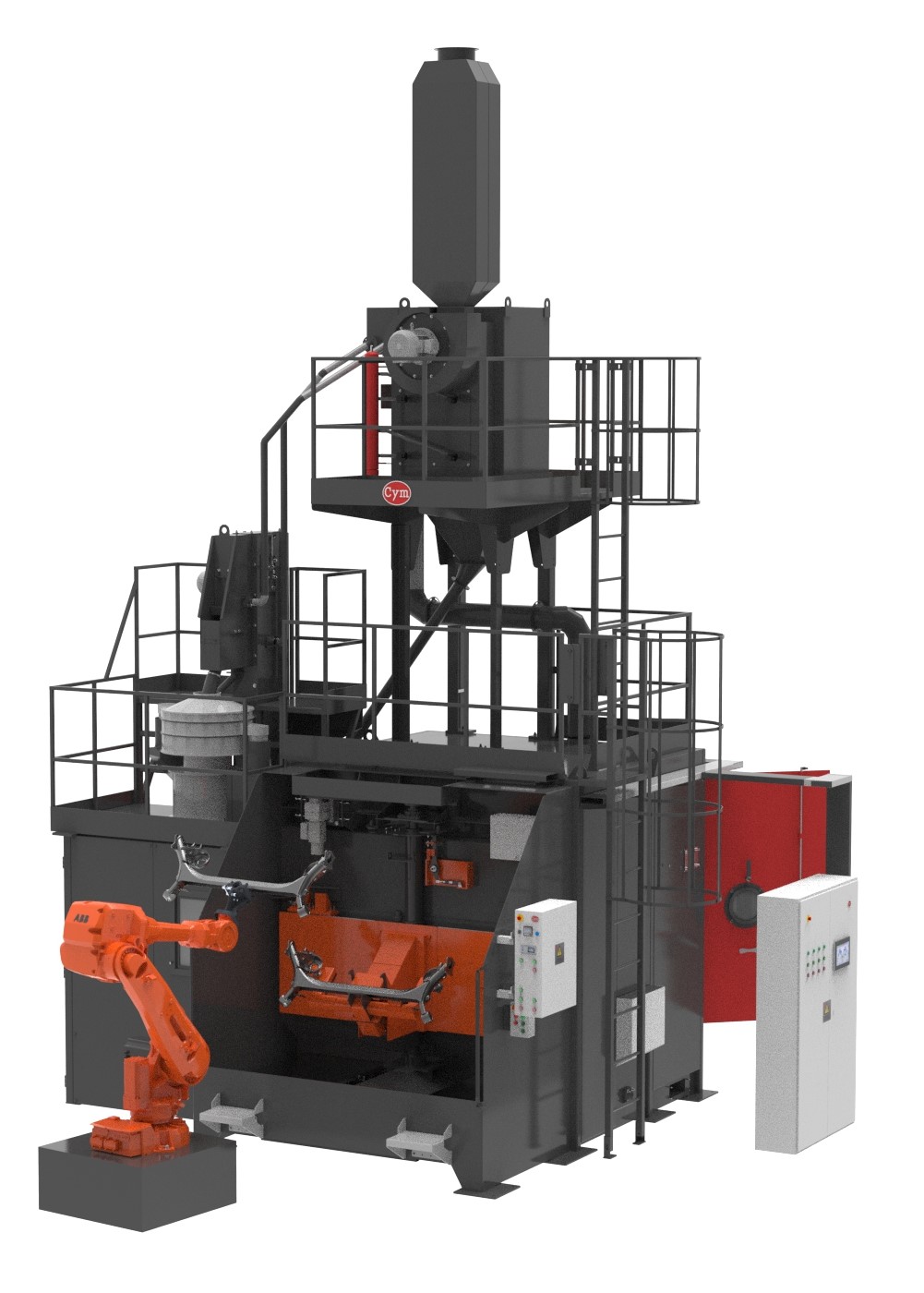 CYM Materiales SA manufacture Robotized equipment for localized shot peening, adapting to the needs of each client.
The equipment has abrasive impulsion carried out by compressed air nozzles by pressure or suction that are manipulated by robots or reciprocators with precision X (horizontal) + Z (vertical) displacement using one or multiple nozzles according to the size of the blasting machine and the pieces to be processed.
In various sizes and configurations, the rooms are modular and can be equipped with various parts movement systems combining with robots or manipulators to perform parts loading and unloading work, working in automated manufacturing cells fully integrated with other processes.
---
Outstanding Manufacturing Features
Modular cabinet of robust construction with different combinations of internal lining, made of manganese steel, cast steel or rubber all of high resistance to wear
different parts movement system options
Robot blast nozzle manipulator system or X-Y-Z plane manipulators activated by electric cylinders with servo-motors and drive
Magna Valve abrasive flow control, working pressure and sensors for permanent abrasive level monitoring.
Double recirculation system, cleaning and abrasive classification,

Shot Sorting Screen System
Air Curtain Abrasive Cleaning System

Acoustic enclosure
Vacuum cleaners with a high level of particle retention and different options as needed, fire extinguishing system, explosion, wet filters, maintenance platforms, etc.
Robots or manipulators for automatic loading and unloading of parts.
Control panel and electrical components - manufactured according to user needs according to IEC, Nema, EU standard
---
VIDEOS RELACIONADOS
---
EQUIPOS RELACIONADOS
Special Projects In case the equipment you need is not found in these pages, please contact our Engineering and Sales department, so they can help them develop the best equipment that meets your needs, seeking to reduce your costs of operation and increase the profitability of your production systems
---
Photo Galery