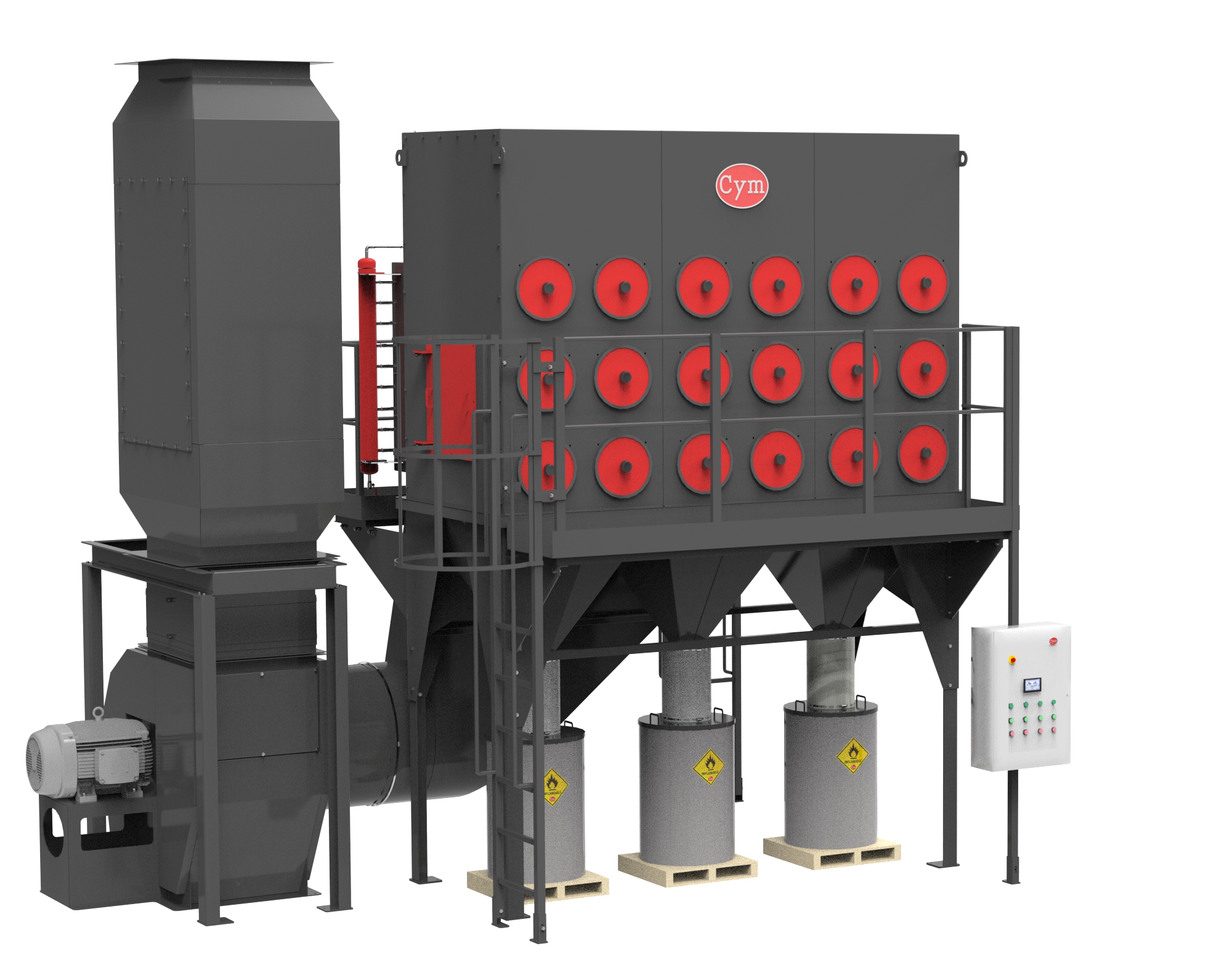 Cym Materiales Sa, sells filters for dust collectors. By treating fumes and dust generated in industry, significant energy savings and increased production efficiency are achieved.
Controlling indoor air quality in industries is a challenge that we are in a position to face with unimaginable results. Vacuum cleaners used to control contamination and / or recover product are highly effective and are applied to the most diverse industries.
Companies in the food processing industry must control their dust emissions to the atmosphere to comply with the legal limits set for a particular material, or if legal limits do not apply, the limits for hygiene, pest prevention and The environmental protection. Like ISO14001. Each food or beverage manufacturing will have its own unique set of process conditions. For all these conditions we have a custom Vacuum Cleaner to offer you, even if you want to recover part of the waste generated by your process.
Capturing dust and fumes generated during plasma cutting is a unique challenge. The state-of-the-art filtration we offer you, will correctly size a cost and space-saving Filtration System that is reliable, durable, and easy to maintain.
Shot blasting is a very diverse market, abrasives for shot blasting also vary widely from sand, steel shot, plastic, stainless, and slag, among many others. It is documented that the incorrect application of aspiration in these processes can generate large explosion and fire rooms. We have the widest range of vacuum cleaners for every shot blasting application. We are leaders in the field. In each case, we must analyze each and every one of the security considerations to take into account, and we are highly trained to provide this service.
Rubber grinding applications pose multiple challenges for Vacuum Cleaners. Oils in rubber are typically the biggest problem as they can saturate pleats and fail, heat is also a problem as hot pieces of materials can burn filter media, rubber grinding dust is explosive in nature, and there are also dangers that have to do with the release of hydrocarbons. For each and every one of these problems we have the right vacuum cleaner.
It is essential in the welding process that the respiratory health of the operators is protected, a collection system is necessary to prevent respiratory problems and thus avoids the need for personal respirators with the challenge that this implies when the operator uses it. On the other hand, if the dust generated by welding is not properly collected, the electronic controls of the companies can fail, shutting down operations in an emergency, causing downtime, costly losses and emergency repairs. The use of exhaust and smoke ventilation can significantly reduce the cost of energy used by recycling the air.
Our industrial vacuums have proven to work very well in chemical processing applications such as paint pigments, pharmaceuticals, dry agricultural chemicals, and especially toxic materials such as pesticides and insecticides that are common and hazardous materials to capture in a dust collector. To the industry from a range of vacuum cleaner options, from ingestible powdered drugs, to mouse poisons, the special series of vacuum cleaners have performed optimally in these applications where most dust collectors have failed.
Our Filters allow the dust collectors to work with maximum performance. Filters are offered for a wide variety of dust, fume and mist collector applications, our filters outperforming other filters in performance and durability.
100% POLYESTER cartridge
Antistatic Cartridge
Cartridge 80% CELLULOSE + 20% POLYESTER
100% POLYESTER + ANTISTATIC cartridge
UNIFILTER cartridge 100% POL GRAPHITATED ANTIEST
RHP210 cartridge
Filter Bolson
Filter BAG VILEDON T60 (595x595x650)
Custom filter sleeves
Tailor-made suction sleeves.
Sheet and panel filters
Bag filters
Compact filters
Hepa Ulpa filters
Carbon and chemical filters
Metal filters
Systems for clean rooms and hospitals
Racks, air intakes and mounting systems
High temperature filters
Gas turbine filters
Dust collector solutions
Gas turbine filtration
Dust collectors and APC
Do not hesitate to ask about the cartridge you need for your Vacuum Cleaner.
---
Photo Galery