CYM Materiales SA manufacture industrial cartridge dust extractors with suction volumes and air filtration from 12 m3 / min. at 432 m3 / min. The dust collectors are manufactured to be used in the most varied work needs, with high particle retention efficiency reaching the strictest standards.
Compact design thanks to the arrangement of the filter medium in the cartridge, which ensures a large filtering surface in a small volume of equipment. One cartridge replaces many traditional sleeves of much larger dimensions, allowing the dust collector to be accommodated indoors and saving a lot of floor space.
Pneumatic filter element cleaning system, which allows continuous operation and long service life of the filter elements.
---
Optional
All dust filters can be configured according to the needs of the user or the installation, highlighting the following options: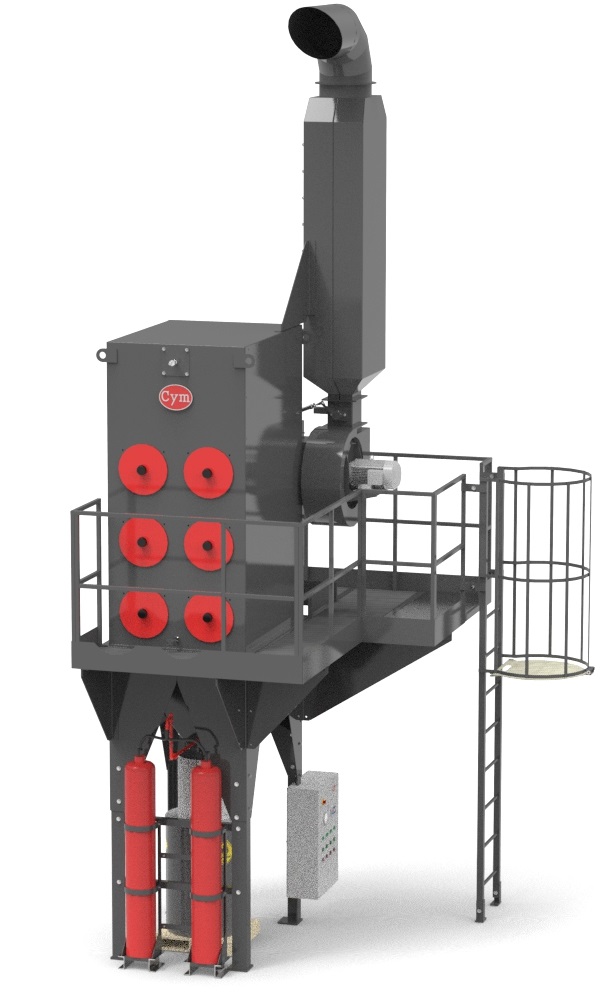 Intermediate dust retention cyclones prior to cartridge filters.
Rotary valves or augers for discharge of powder to drums
Different qualities of filter elements for different applications (80% cellulose / 20% polyester, 100% polyester, Antistatic, etc)
Acoustic soundproofing of the collector, exhaust fan and clean air outlet
Maintenance platforms
Deflector extinguishes sparks
Fire prevention and protection system
Inert material additive
Hoods, ducts and chimneys
Secondary dust filters
Manual suction kit for cleaning in the sector
---
Cym Materiales Argentina and Metalcym Brazil manufactures industrial dust collectors: cyclonic, with hose or cartridges and wet scrubbers.
The collectors are manufactured according to the different work demands, with high efficiency in particle retention reaching high standards. The cleaning of the filtring elements can be performed by means of mechanic or neumatic systems. The latter allows a continous functioning of the collector with a long-life use of the filtring elements.
Special project: In case the equipment you need is not on these pages, please contact our Engineering and Sales department, so they can help you develop the best equipment that meets your needs, seeking to reduce your operating costs and increase profitability your production systems