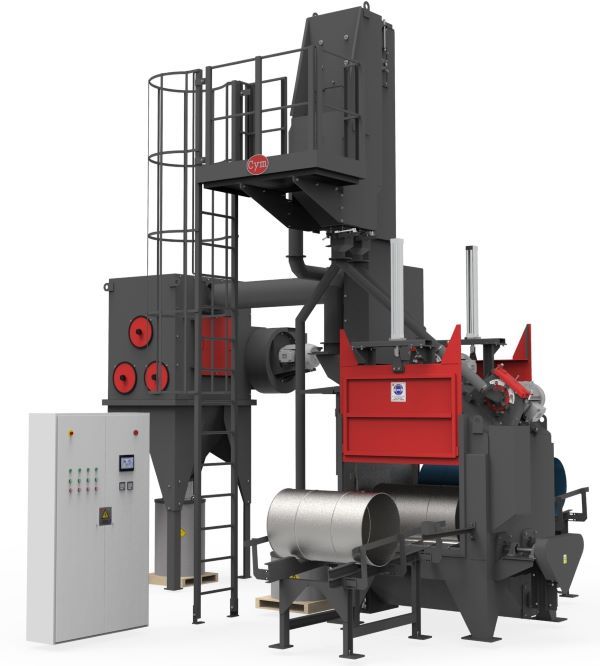 CYM Materiales SA through vast experience offer a high range of machines for internal and external shot blasting of metal drums, adapting to the most varied work needs.
All equipment meets the highest work requirements, being robust, reliable and compact and thanks to an exclusive design and applied know-how, they ensure high productivity with low operating and investment costs working with a non-polluting process of the environment. environment.
Shot blasting is a method that prepares metal surfaces by removing all types of coating such as old paints, flakes, etc. and simultaneously gives a roughness profile to improve the anchoring of the new coating or paint to be placed.
Cym developed metal drum blasting equipment covers the following production options:
Blasting equipment for batch jobs manual loading and unloading
Horizontal continuous passage blasting equipment with automatic loading and unloading
Outstanding Manufacturing Features of Drum Equipment
Robust cabinets with different combinations of internal lining, rubber, manganese steel or cast steel all highly resistant to wear
Bi-directional blasting turbines to drive the abrasive, depending on the size of the material to be shot blasting or the required process speed, their quantity and power varies.

Turbine housing (housing) made of manganese steel sheets together with a complete interchangeable internal coating made of high wear resistance cast iron, forming together with the housing a double wall resistant to abrasion.

Turbine wheel, rotor, control box made from high chrome cast "Long Life"
Positioning and fixing system of a special control box avoiding the risk of incorrectly regulating the hot spot. In this way, it guarantees that when performing maintenance the operator does not mount this part in a position other than the correct one, which would lead to premature wear of the inner lining of the turbine, loss of production, decrease in the quality of the shot blasting, etc.
Labyrinthine shot seals between the engine coupling hub and the turbine housing, eliminating shot losses with the possibility of mounting the turbines in any position, even with the vertical axis.
Direct mounting of the turbine wheel to the engine
High efficiency abrasive cleaning system and simple regulation allows to maintain a correct operating mix during operation
Vacuum cleaners with a high level of particle retention and different options as needed, fire extinguishing system, explosion, wet filters, maintenance platforms, etc.
Control panel and electrical components - manufactured according to user needs according to IEC, Nema, EU standard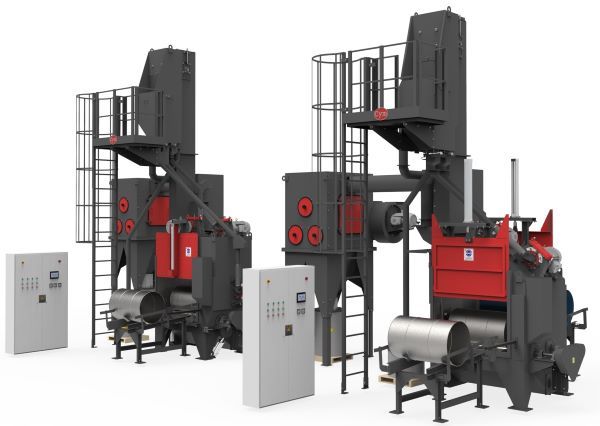 Special Projects: In case the equipment you need is not found on these pages, please contact our Engineering and Sales department, so that they can help them develop the best equipment that meets your needs, seeking to reduce your costs. of operation and increase the profitability of your production systems.
---
Photo Galery