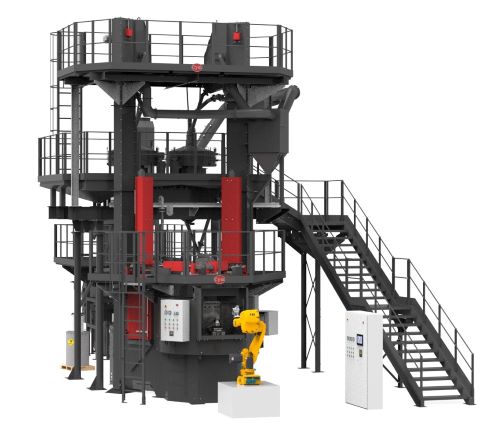 CYM Materiales SA manufacture equipment for the treatment of shot peening, Double Shot Peening and Stress Peening with an abrasive drive carried out by pressure nozzles or centrifugal turbines using one or more wheels, depending on the size of the shot blasting machine and the parts. to process.
The shot-peening process is a particular case within the range of the shot blasting process, by means of which compressive stresses are induced in a metal surface, exposing it to a jet of spherical particles (shot) at high speed and keeping the parameters controlled. of the operation.
During the shot-peening process, in addition to producing the aforementioned effect, the surface is cleaned as in a normal blasting task, but this is only a secondary effect of the process, the basic purpose being to increase the fatigue resistance of the material. .
Hammering action with spherical particles (shot peening) When the shot is propelled in a high speed flow, it impacts on a metallic surface, forming a surface profile made up of rounded valleys and ridges and products by the plastic deformation of the metal during the process. impact. This deformation extends between 50 and 250 microns in depth.
The effect obtained after shot-blasting constitutes the crushing of the metallographic grains on the metal surface.
With this, there are two effects:
The grains expand by compressing each other and causing the appearance of compressive stresses parallel to the surface. These compressive stresses cancel out residual stresses induced in previous processes such as machining, heat treatment, plastic forming, etc. And they also oppose any tensile stress to which it is subjected in a subsequent use.
As a secondary effect, when the grains widen, they cover the Inter spaces. granular, reducing them considerably and thus the rate of galvanic corrosion.
In summary, the shot peening process increases fatigue resistance, particularly coil and flat springs, strapping, stabilizer bars for cars, gearbox gears, transmission rings and pinions, aircraft parts and pieces, bits and drill rods. oil and mining companies, etc. and as a secondary effect, it produces an increase in corrosion resistance, the elimination of residual stresses by inducing a uniform compression stress over the entire surface, as well as cleaning it by shot blasting.
---
VIDEOS
---
EQUIPOS RELACIONADOS
Special Projects In case the equipment you need is not found in these pages, please contact our Engineering and Sales department, so they can help them develop the best equipment that meets your needs, seeking to reduce your costs of operation and increase the profitability of your production systems.
---
Photo Galery