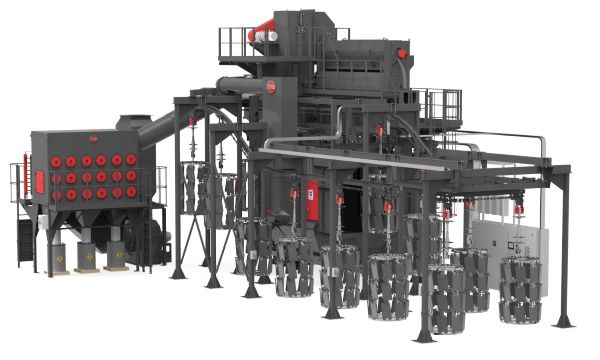 CYM Materials SA manufactures spinning hanger shot blasting machines for a wide industrial range of products.
Spinner hanger are very versatile since they allow processing different kinds of components, such as small and sensitive parts as well as more complex parts which may be heavy or large and therefore not suitable for tumbling in bulk loads.
---
At CYM we have equipment to process different load volumes and weights, and according to the requirements of each client, we offer different loading options in batch processes (CAB) or continuous overhead rail blast machine (TUN).
CAB - The spinner hanger shot blasting machine developed for batch processes with five loading options:
CAB GF - Fixed Hook
CAB 1GM - mobile hook
CAB Y - Double hook
CAB TAM 2P - Double door
CAB OVAL - Multiple hooks
The last three have the advantage, compared to the first two, of having less dead time for loading and unloading parts. When more than one hook is used, it is possible to load / unload pieces on a hook while the one inside the equipment is being blasting.
TUN - The continuous overhead rail blasting line allows the processing of large volumes of part production. The parts to be shot are placed on hooks located on the overhead conveyor with two conveyor advance options:
TUN - Continuous Overhead Rail blast machines
TUN - Stop and go Overhead Rail blast machines
Using continuous overhead rail blast machine allows to process parts in suspended load in line with painting processes
---
Main uses and applications of Spinner Hanger Shot Blasting Machines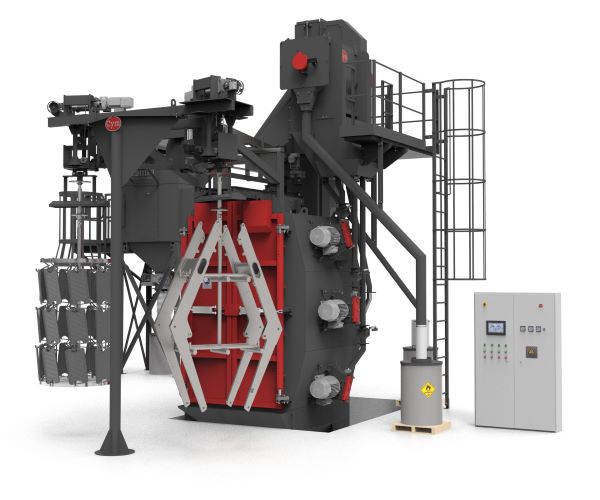 Spinneg hanger shot blasting equipment are very simple to operate and are used, among other applications, for the following processes
Surface preparation for paint, metal, rubber, etc.
Pickling of forgings or parts heat treated
Blasting of ferrous and non-ferrous metal castings.
Deburring of metallic and non-metallic parts.
Elimination of oxides and scale
Shot Peening
---
Advantages in the use of Cym shot blasting machines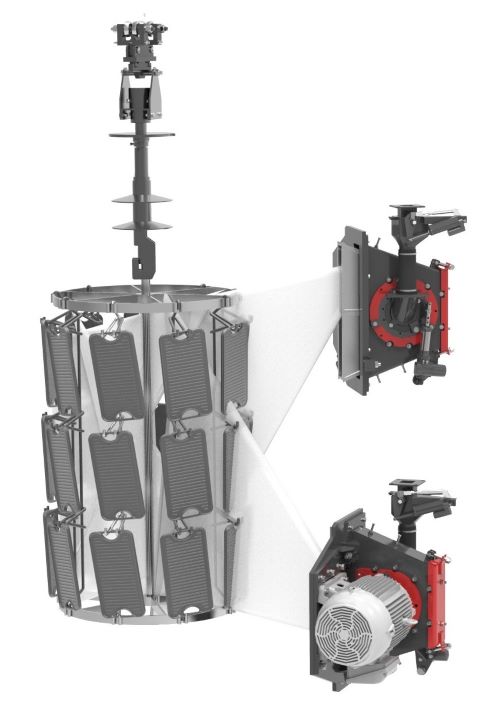 They process all kinds of parts, with high production volume and minimum operating cost.
Excellent homogeneity of completion in the processed parts
Automatic process, does not require specialized labor
Using continuous overhead rail blast machine allows to process parts in suspended load in line with painting processes
It does not contaminate the environment
---
Related Videos and Catalogs
---
EQUIPOS RELACIONADOS
Special project: In case the equipment you need is not on these pages, please contact our Engineering and Sales department, so they can help you develop the best equipment that meets your needs, seeking to reduce your operating costs and increase profitability your production systems
---
Photo Galery